This morning, after being presented with evidence—including video footage from PETA's investigation—making the case that animals warehoused in Elizabeth Owen's Myrtle Beach, South Carolina, storage units are in need of emergency intervention and care, Horry County Judge Bradley Mayers signed an order to seize custody and control of the animals because of animal neglect. The order requires officials to seize Owen's animals—a German shepherd named Hope and some 300 cats who have lived for months or years on end (some for their entire lives) in cages and crates stacked on top of each other at the "Sacred Vision Animal Sanctuary."
The order reads, in part, "Sufficient evidence of a pattern of behavior wherein [Owen] fails to provide adequate veterinary care to ill and suffering animals has been established necessitating emergency care." According to one news story, "Judge Mayer [sic] said after reviewing evidence he would not feel comfortable allowing the animals to remain in Owen's care." We agree wholeheartedly.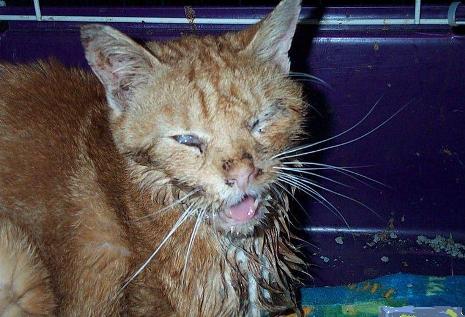 The animals will be immediately evaluated by a veterinarian and sheltered. They will finally have a clean, soft spot to curl up, the ability to groom themselves without swallowing their own waste, room to stretch and walk about, and desperately needed veterinary attention. Future court hearings will determine when the animals can be offered for adoption and find the permanent, loving homes that they deserve and should have been afforded long ago. Judge Mayers' compassionate decision marks a long-overdue new beginning for these animals, many of whom have been caged in Owen's dungeon-like, stifling warehouse for years. Stay tuned for more updates on this case.
Written by Lindsay Pollard-Post