Update: PETA has obtained two previously unreleased U.S. Department of Agriculture (USDA) inspection reports that call into question the Pittsburgh Zoo's claims about Seeni the elephant and her calf, who died last year at 3 months old after the zoo separated her from her mother and put her on display.
https://twitter.com/peta/status/903399525565517824
According to the reports, the Pittsburgh Zoo's so-called "International Conservation Center"—where Seeni's calf was born—didn't have enough employees to care for the six elephants there, including the newborn calf, who required round-the-clock care. The USDA wrote that the zoo took the calf from her mother "in part because of this limited staff and their inability to care for this animal." The agency also noted several days after the birth and suggested that she may have bonded with her baby, had she been given more time—contrary to the zoo's claims that she had rejected her calf and wasn't producing milk.
---
Learn more about how PETA helps captive elephants on The PETA Podcast:
Listen to more episodes on iTunes and Spotify! Subscribe for new episodes.
---
But the saga doesn't end there. The USDA reports also mention that the calf had a 2-inch wound on her head and was exposed to hazards like electrical wires and bleach at the zoo. The notoriously unreliable USDA later removed many of the damning details contained in its report, following an appeal by the zoo. The move is consistent with the agency's pervasive lack of transparency and its controversial efforts to protect animal-exploiting businesses from "embarrassment."
PETA Is Taking Action—You Can Help, Too
We're urging the U.S. Fish & Wildlife Service to suspend the Endangered Species Act permit that it issued earlier this year allowing the Pittsburgh Zoo to import semen from an elephant at a zoo in Canada. Our complaint notes that a young elephant named Umasai died at the Pittsburgh Zoo around the same time that Seeni's calf was put on display—but the facility never announced his death. You can help these animals, too, simply by refusing to buy a ticket to the Pittsburgh Zoo or any roadside zoo. And tell your friends and family members to avoid facilities that mistreat animals:
Originally posted August 30, 2017:
Update: Just as we feared would happen, an unnamed elephant calf at the Pittsburgh Zoo has died.
JUST IN: Baby elephant dies at Pittsburgh Zoo https://t.co/uLMOngdlbs pic.twitter.com/P1tXft78Bf

— Pittsburgh Post-Gazette (@PittsburghPG) August 30, 2017
This animal's short life ended without the comfort of being with her mother or other elephants. The Pittsburgh Zoo has apparently publicly glossed over the true extent of the health crisis that this baby must have experienced—and from taking her away from her mother to dropping its accreditation so that it could keep using weapons on elephants, the facility has proved that its elephant program is a throwback to a crueler age. PETA is calling on the Pittsburgh Zoo to end its elephant program altogether.
Originally posted August 24, 2017:
Update: According to reports, an elephant calf at the Pittsburgh Zoo who was separated from her mother to be raised by humans has lost considerable weight and is now in critical condition. This sad news is exactly why PETA and concerned people across the country are calling for an end to the zoo's elephant-breeding program.
#BREAKING: Pittsburgh Zoo says their new baby elephant is gravely ill and they're not sure she will make it. https://t.co/4M2FRyZ7qR pic.twitter.com/YOSvse2UKM

— KDKA (@KDKA) August 23, 2017
This elephant calf is sick and suffering, likely because human interests were allowed to trump those of the elephant and her mother. Breaking the bond between elephant calves and the mothers they depend on to nourish and nurture them can be life-threatening, but baby elephants boost zoos' ticket sales—and sure enough, this baby was separated from her mother and put on display before the Pittsburgh Zoo even bothered to give her a name. As the facility scrambles to save a baby who has lost 15 pounds since her birth, PETA is renewing its call to end the breeding program before more elephants face the fate of this nameless calf and her mother.
Originally posted June 8, 2017
PETA and conscientious people across the country are expressing grave concern over the health and well-being of an elephant named Seeni and her calf, who was born prematurely last week at the International Conservation Center, a facility affiliated with the Pittsburgh Zoo. According to reports, the calf was promptly taken away from her mother and sent to the Pittsburgh Zoo, where she has been kept mostly isolated from other elephants to be raised by humans.
Pittsburgh Zoo​ welcomes new addition, a premature baby elephant, weighing 52 pounds below the median birth weight. https://t.co/8vymujT5iW pic.twitter.com/On5iqRM5N4

— ABC News (@ABC) June 7, 2017
From the beginning, this infant has been deprived of the nurturing care of a mother and a family. Normally, she would have nursed for several years while learning crucial social and behavioral skills from her mother and her protective, affectionate relatives. Mothers of any species have an intense emotional bond with their offspring, and breaking that bond causes immense physical and psychological distress to both animals.
Should the calf survive, she'll be put on public display and will inevitably boost ticket sales. Remember: Elephants are highly intelligent, emotional, and social animals who suffer when separated from their close-knit families, just as humans do. The Pittsburgh Zoo must stop breeding and traumatizing elephants in what is obviously a ploy to lure in customers with the promise of cute baby animals. It wasn't right when Ringling treated elephants this way, and it will never be right for the Pittsburgh Zoo—or any zoo—to disregard animals' well-being in the interest of profit.
A History of Failing Elephants and Other Animals
Two years ago, the Pittsburgh Zoo lost its Association of Zoos and Aquariums accreditation because it refused to comply with the organization's requirements for the safe handling of elephants by switching to a protected-contact elephant-management system, in which humans and elephants are always separated by a barrier. Instead, the zoo has used dogs to herd elephants—which earned the facility a citation for violating the federal Animal Welfare Act—as well as bullhooks (weapons that resemble a fireplace poker with a sharp metal hook on one end and are commonly seen in circuses), which are also prohibited under a protected-contact system. In November 2016, the zoo was cited for critical noncompliance with the federal Animal Welfare Act when a bat enclosure flooded, killing 36 bats.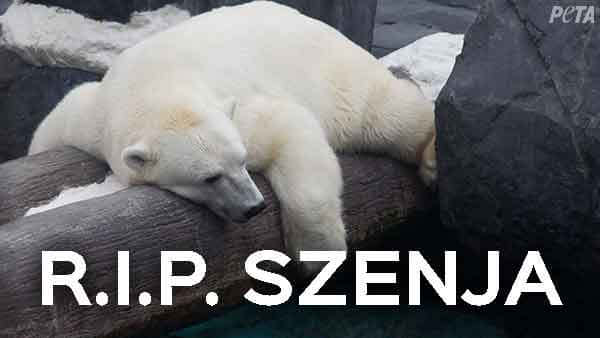 Earlier this year, despite appeals by PETA and concerned people across the country, the Pittsburgh Zoo worked with SeaWorld San Diego to separate two bonded polar bears named Snowflake and Szenja, who'd been together for 20 years, in an attempt to breed new polar bear cubs to attract visitors—the same fate that Seeni's calf faces. Less than two months after the bears were separated, Szenja died alone at SeaWorld, leaving Snowflake to live out the remainder of her miserable existence at the Pittsburgh Zoo, where polar bears have been filmed over the years—and as recently as May of this year (see video below)—exhibiting stereotypic, repetitive types of behavior that are telltale indicators of high levels of stress.
Stay away from shabby roadside zoos, marine parks, and any other facilities that profit from exploiting animals for cheap human entertainment.
Show your solidarity with Seeni, Snowflake, the newborn elephant calf, and all other animals held at the Pittsburgh Zoo by refusing to buy a ticket and encouraging your friends and family members in the area to do the same. You can also urge SeaWorld to stop breeding animals and shipping them around the country and ask it to retire the animals it holds captive to sanctuaries.