On the heels of reports that a capuchin monkey repeatedly projectile vomited on the Australian set of Pirates of the Caribbean: Dead Men Tell No Tales—after a monkey bit a makeup artist in a previous on-set incident—PETA sent a letter today urging producer Jerry Bruckheimer to pledge not to use monkeys or other wild animals in future productions.
PETA slam Pirates of the Caribbean 5 after actor reveals 'hilarious' story about monkey vomiting on set https://t.co/1bEzFQ9tBw pic.twitter.com/gVCNCA1vGW

— Independent Film (@TheIndyFilm) May 31, 2017
Early in the film's development, PETA called on producers to use computer-generated imagery instead of intelligent and highly social capuchins, noting that these animals' complex physical and psychological needs can't be met on any film set or in a training compound.
https://www.youtube.com/watch?v=gQg2SMJu92w
Dead men may tell no tales, but these reports from the Pirates of the Caribbean set speak for themselves.
Joe Suffredini of Avian Entertainment—who reportedly provided the monkeys for the film—has an egregious track record when it comes to animal welfare. Avian Entertainment has been cited numerous times by the U.S. Department of Agriculture for violations of the federal Animal Welfare Act, including for having filthy and inadequate enclosures, failing to supply adequate environmental enrichment, and not having an adequate program of veterinary care.
This isn't the first time that one of Bruckheimer's Pirates productions has come under fire for animal-welfare concerns. More than 100 animal deaths occurred during the filming of Pirates of the Caribbean: The Curse of the Black Pearl. It was reported that after filming explosions in the ocean, dead animals washed up on shore for four days.
Animals aren't actors.
Most monkeys used for entertainment are sold as infants by animal breeders and dealers who remove the babies from their mothers prematurely—a practice that's cruel to both the baby and the mother and denies the infants the maternal care and nurturing that they need for normal development.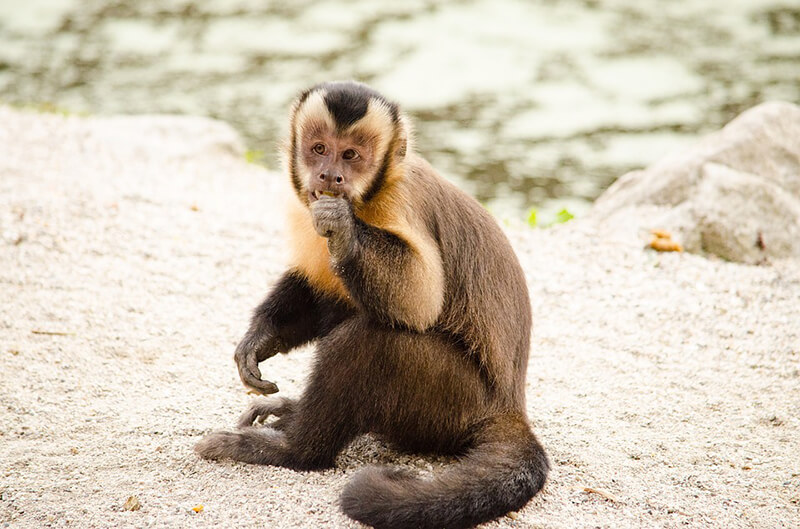 Bright lights, a lack of all that is natural and familiar to them, loud noises, and interactions with people (something monkeys in the wild shy away from) can cause them to lash out in frustration and self-protection. In order to suppress natural behavior and ensure total control over these animals—who are dangerous and unpredictable— trainers typically use abusive training techniques.
What You Can Do
Never purchase a ticket to any movie that uses live animals.
Highly intelligent, sensitive animals deserve better than to be treated as if they were props for our amusement. Help us stop this abuse.