A mother pig and her seven piglets as well as two older siblings have been rescued from a dilapidated pen in a trailer park in North Carolina and are settling in nicely at the 400-acre Poplar Spring Animal Sanctuary in Maryland, where they joined the facility's 44 other porcine residents.
The pigs were discovered by two of our fieldworkers while they were delivering doghouses to vulnerable dogs in rural North Carolina. The fieldworkers walked down a makeshift driveway and came upon a clearing that was enclosed with old wooden pallets, rusty tin roofing, and scrap wood. The pen was littered with junk, leaving the pigs with nowhere to stand or lie down comfortably. Large, rusty nails protruded from the pieces of wood, which the pigs were forced to walk on.
There was absolutely no water or food in sight, and the pigs were wading ankle-deep in their own waste. "The air was so thick with flies that it looked hazy," said one fieldworker. The owner, a frail elderly man who was no longer capable of caring for the animals, had planned to send them to slaughter before PETA intervened.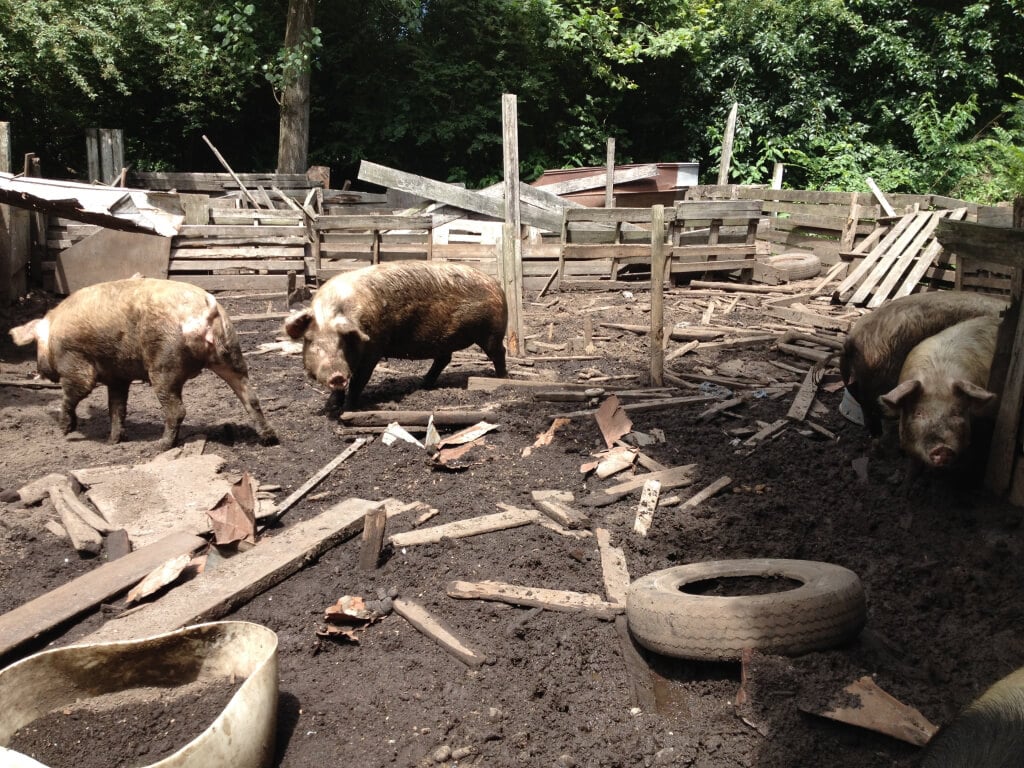 Saved from the slaughterhouse just in the nick of time, these lucky pigs are now living the good life at Poplar Spring sanctuary. For the first time in their lives, they have room to roam, grass beneath their hooves, and healthy, tasty fresh food. They can explore large pastures, wade in a creek, and take shelter from the elements in a spacious barn.
What You Can Do
Help give other pigs a happy ending by refusing to eat bacon, ham, or any other pork products. Visit PETA's Living page for tasty pig-free recipes.