Check out these pictures from two recent protests held by PETA and PETA Asia-Pacific outside Philippine Airlines' offices in San Francisco and Manila, respectively. At stake: the lives of primates shipped by the airline to the U.S. for delivery to experimenters, who will imprison, abuse, and kill the terrified animals.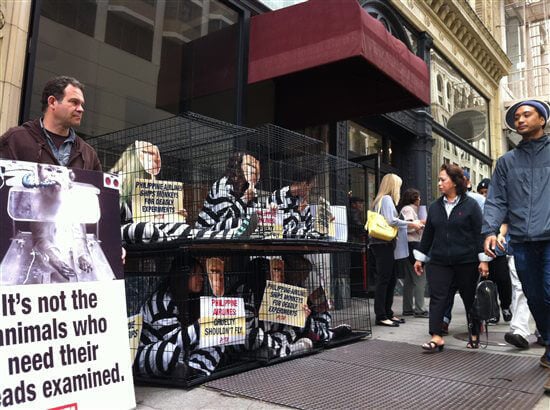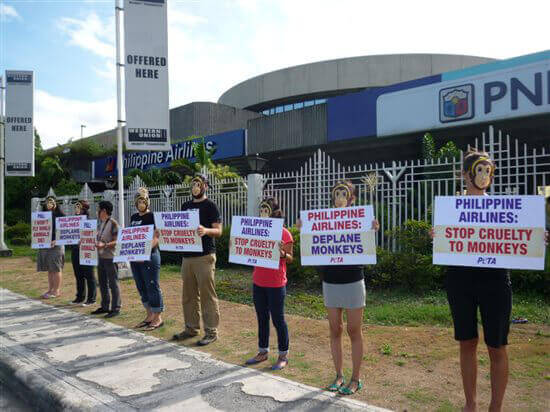 Philippine Airlines is one of only three major airlines still transporting primates to laboratories. According to documents obtained by PETA, Philippine Airlines shipped 190 macaque monkeys—crammed into tiny crates—from Indonesia to Los Angeles in 2012. All the monkeys were transported in dark, terrifying cargo holds below the feet of unsuspecting passengers.
From L.A., the monkeys were trucked to a Texas quarantine facility run by infamous Shin Nippon Biomedical Laboratories before being finally transported to the University of Washington in Seattle. Monkeys at this laboratory are commonly infected with diseases, have holes drilled into their skulls, and are deprived of food or water in order to force them to cooperate in experiments.
For the past few months, PETA and PETA Asia-Pacific have been trying to work with the airline to end this practice. Now that talks have broken down, PETA entities have launched international protest campaigns by holding demonstrations and asking supporters to call the airline's San Francisco office to press officials to end shipments of primates to laboratories. (At one point, the airline was so overwhelmed with calls that it stopped answering its phones!)
How You Can Help
PETA entities will continue to protest outside Philippine Airlines' offices worldwide until the carrier bans the transport of primates for experimentation. Please politely urge Philippine Airlines to stop shipping monkeys to laboratories by calling airline officials at 415-217-3150 and by participating in PETA's online action alert.