Philippine Airlines is one of only three major airlines that still ship primates to laboratories where they are tormented and killed in cruel experiments, but you wouldn't know it from talking to its representatives. Airline reps have recently been telling concerned PETA members who call their offices that they don't ship monkeys and have not done so for a long time—but that's a lie.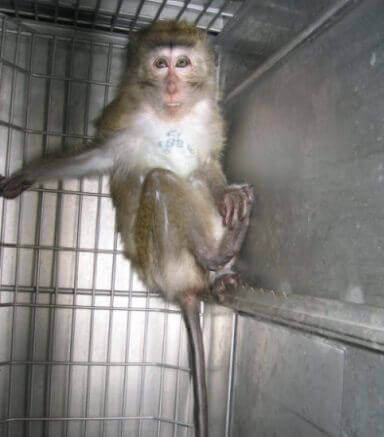 PETA has obtained documents that show that Philippine Airlines has shipped nearly 200 pig-tailed macaque monkeys from Indonesia to the University of Washington's Washington National Primate Research Center in Seattle within the past 12 months alone. The documentation is crystal clear, containing invoices, tracking numbers, flight numbers, and many other details. There may be other such shipments as well.
Because of the growing pressure from PETA and its supporters around the world, Philippine Airlines could no longer ignore the issue and released a statement on its website and Facebook page that read, "Philippine Airlines is not engaged in the transport of wild, endangered or threatened animals, regardless of their purpose." Yet the pig-tailed macaques it sent to the hellish laboratory mentioned above are widely considered a threatened species. When PETA and PETA Asia-Pacific e-mailed and called Philippine Airlines asking that the airline explain the discrepancy between the records and its new statement, it quietly removed the statement from its website and Facebook. 
What You Can Do
Clearly, Philippine Airlines is hearing our international protests loud and clear, and we need to keep it up to make sure that it gets out of the monkey business for good. Please call the ticket and cargo offices at the numbers below and politely tell the representative that you will not be giving any business to Philippine Airlines until it stops shipping monkeys to laboratories:
808-840-1100
310-646-1966
650-588-5020
415-217-3144
If you're told that the airline has already stopped, ask the representative to tell you and PETA in writing.