PETA founder Ingrid E. Newkirk offers hundreds of simple ways to stop cruelty to animals in her new book, The PETA Practical Guide to Animal Rights: Simple Acts of Kindness to Help Animals in Trouble, which was released today.
While Ingrid is out on the road promoting kindness on her book tour, PETA's vice presidents are stepping up to our virtual podium for a Q&A with all of you PETA Files readers. They are poised to answer your hard-hitting animal rights and PETA questions. But first, some introductions are in order.
Meet the VPs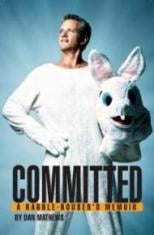 Dan Mathews
Senior Vice President of Campaigns
PETA's dashing senior VP was once a green-haired punk rocker who flipped burgers at McDonald's. But when this pop-culture junkie breezed through PETA's doors in 1985, it was clear that he was born to lead our campaigns. During his two decades at PETA, this author/concert coordinator/protester extraordinaire has been the brains (and brawn) behind some of PETA's most colorful campaigns, including the ever-popular "I'd Rather Go Naked Than Wear Fur" campaign. Dan lives by his personal motto: "Rest When You're Dead."
Just a sampling of the many PETA victories achieved under Dan's watch include convincing Calvin Klein to stop designing with fur after leading a raid in Calvin's office, pressuring GM to stop using animals in crash tests, and lobbying Gillette to halt product tests on animals. He's lined up stars to protest, pose nude, or even go to jail for the cause, including Chrissie Hynde, Sir Paul McCartney, and Pamela Anderson. Dan was named one of the "Most Influential Gays" of the millennium by Genre and one of the "50 Most Beautiful Guys" by teen magazine YM.
He's so funny and charming that it's no wonder that my mom, Carla of "Ask Carla," ignored her gay-dar and once daydreamed about setting him up with me.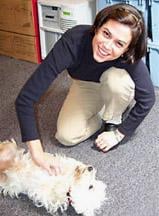 Lisa Lange
Senior Vice President of Communications
Lisa coordinated the production of some of PETA's most popular and successful videos and PSAs, including the hugely popular "Veggie Love" ad, a vegetarian ad featuring Alicia Silverstone in the buff, and a series of provocative videos for PETA's Animal Birth Control campaign. She also assisted with the production of I Am an Animal, an award-winning HBO documentary about Ingrid E. Newkirk.
She's influenced millions of viewers to consider animals during her smackdowns of animal exploiters on Today, CNBC, CNN's Crossfire, Larry King Live, and Your World With Neil Cavuto. She's appeared numerous times on The O'Reilly Factor and on countless other television and radio programs.
Lisa epitomizes vegan vitality and never stops thinking of ways to alleviate animal suffering—even when she's doing sit-ups at dawn during her boot-camp workouts.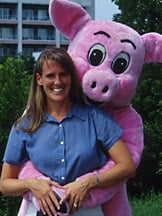 Tracy Reiman
Executive Vice President
Tracy oversees all of PETA's campaigns as well as PETA's marketing, corporate affairs, youth, and Web outreach efforts.
Let me take a deep breath before I start listing just a few of Tracy's accomplishments. Whew. OK. She led successful efforts to persuade Mobil, Texaco, Shell, and other big oil corporations to cap their oil stacks to prevent thousands of birds and bats from burning to death. She participated in the infamous sit-in at Calvin Klein's office (as mentioned above), which tipped the balance in convincing the clothing designer to abandon fur. She was instrumental in stopping NASA's cruel Bion project, which involved sending primates into space. Her investigative and rescue work resulted in the first-ever cruelty charges filed against a factory farmer for cruelty to chickens.
Tracy is fearless and tireless in her efforts for animals, and no matter what the situation, she always remains cool, calm, and collected. I've always considered her a sort of female James Bond for animals.
So, what is it that you're dying to know about these die-hard animal activists? Don't be shy. Leave a question (or two) below, and we'll have each of the VPs answer the most thought-provoking questions later this month.
Written by Karin Bennett