In the wake of the deaths of six bulldogs during flights last year, Delta Airlines has announced it will no longer ship English, French, or American bulldogs. Bulldogs, whose short snouts prevent them from cooling themselves effectively, are among the breeds most affected by the rigors of transport in unventilated cargo holds.
As my former Pennsylvania puppy mill bulldog, Bruce, snores beside me, I can't imagine how anyone would ever consider subjecting their dog to the terrors and dangers of a cargo hold. Bruce starts breathing hard when the temperature goes above sixty and he would hate being separated from his family and stuck in a cage in a dark, noisy place.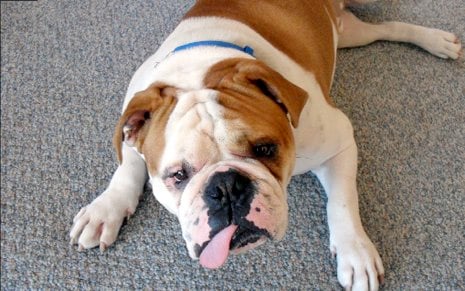 Jen's rescued bulldog, Bruce, isn't being rude. His raspberries are filled with love.

PETA strongly advises against ever shipping any animal in an airplane cargo hold, which can be extremely dangerous—even fatal. Most cargo compartments are kept unventilated in order to help prevent fires. Cargo holds generally have no heat or air conditioning, and they can reach extreme temperatures quickly. Sometimes cats and dogs escape from carriers that have been damaged in transit and become lost inside airplanes or airplane hangars.
Delta's off to a flying start by not allowing bulldogs on board. Even better is Pet Airways, whose only passengers are companion animals—and they all fly first-class.

Written by Jennifer O'Connor