On any given day, all around the globe, PETA's often provocative actions turn people's heads on the street, stop pedestrians in their tracks, and expose cruelty wherever it occurs.
No company, no matter how powerful, gets away with supporting cruelty on our watch.
As SeaWorld continues to tank in popularity and profits, we set up booths in San Diego and San Antonio so that people could experience our "I, Orca," empathy project, which uses wireless Google virtual reality goggles to immerse participants in a world where they can swim freely in the ocean with an orca family. After the experience, almost everyone said that they'd never visit SeaWorld! Those who had pledged to demand a refund.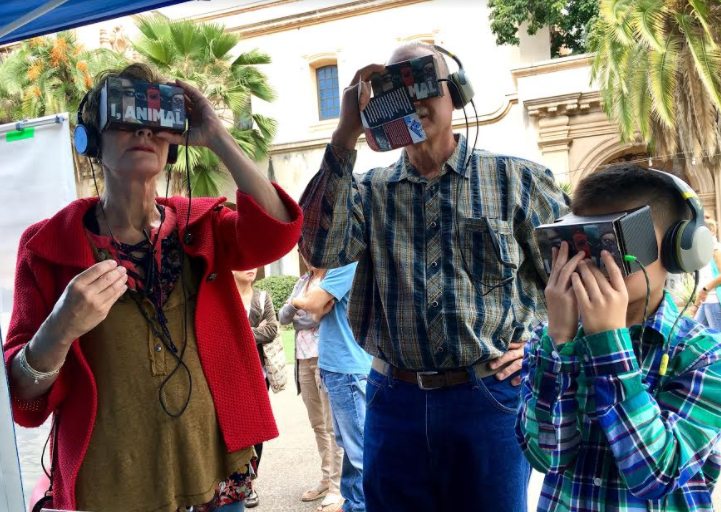 Because of Coca-Cola's unwillingness to drop its sponsorship of the deadly Iditarod dog-sledding race, PETA members gathered outside the World of Coca-Cola museum recently to remind the beverage conglomerate that it has "blood on its cans."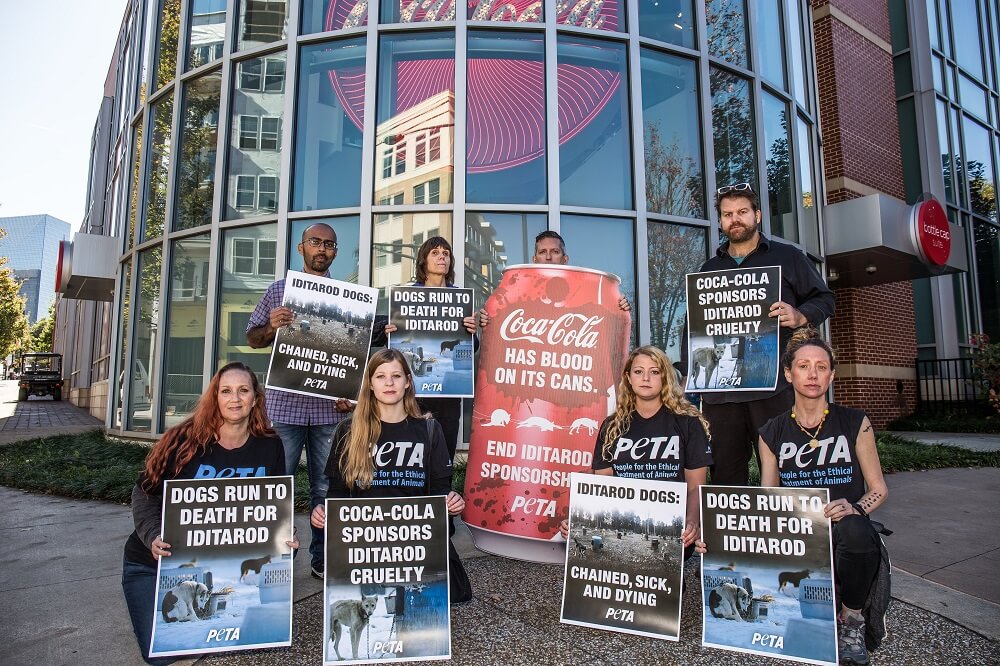 Shoppers were aghast when a giant, partially plucked "goose" led PETA supporters in a spirited protest outside the flagship Canada Goose store in New York City.
Not one more bird should be abused & killed for a @CanadaGooseInc jacket! ✊ A "bloodied goose" & PETA supporters outside #NYC store get loud for birds who suffer for down. pic.twitter.com/YbsRIl2Cmx

— PETA (@peta) November 8, 2017
Just one day later, teenage activist Rose McCoy and her mother, Emily, dropped into a Canada Goose 60th anniversary event. While Rose yelled, "Canada Goose kills! Shame on Canada Goose!" and held a sign reading, "Geese Crushed & Suffocated at Canada Goose Supplier," her mom joined in, describing the ways in which coyotes trapped for the company's coats suffer.
#CanadaGooseKills! Young PETA supporters were escorted out of @CanadaGooseInc party at @Saks in #NYC after a powerful disruption. pic.twitter.com/HWhWxCkOHs

— PETA (@peta) November 10, 2017
Across the pond, within minutes of opening its first European flagship store in London, Canada Goose saw its first protesters, including another giant "goose," who called on consumers to refuse to buy coats made with the fur and feathers of animals who endured violent deaths.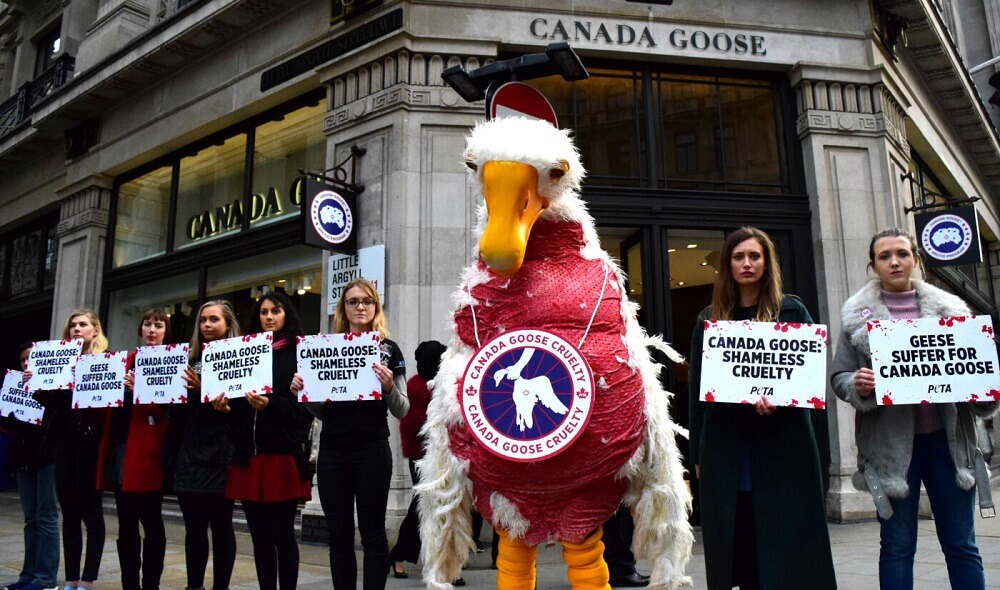 In the spirit of larger-than-life animals who combat cruelty, a giant PETA "mouse" descended on Castle Fitzjohns Gallery in New York City to denounce the use of live mice in Joseph Grazi's "Prehysteria" exhibit. We are pushing the gallery to enact a policy that prohibits the use of live animals in future exhibitions.
Terrifying mice is cruelty, NOT art! See what happened when PETA demanded a #NYC gallery remove live mice from show: https://t.co/bJvIJ4CQrB pic.twitter.com/wSfHKj1WYQ

— PETA (@peta) November 7, 2017
PETA is out in full force saving turkeys before Thanksgiving.
In Columbia, South Carolina; Charleston, West Virginia; and Louisville, Kentucky, PETA asked passersby to consider how they would feel if a human baby (turkeys are only months old when they are killed) were stuffed, roasted, and served for Thanksgiving dinner. Our volunteer took to the streets to lie semi-nude in a "trussed-up" pose beside two giant "turkey carcasses" on top of a "cutting board" that read, "Go Vegan This Thanksgiving." The message? We're all the same.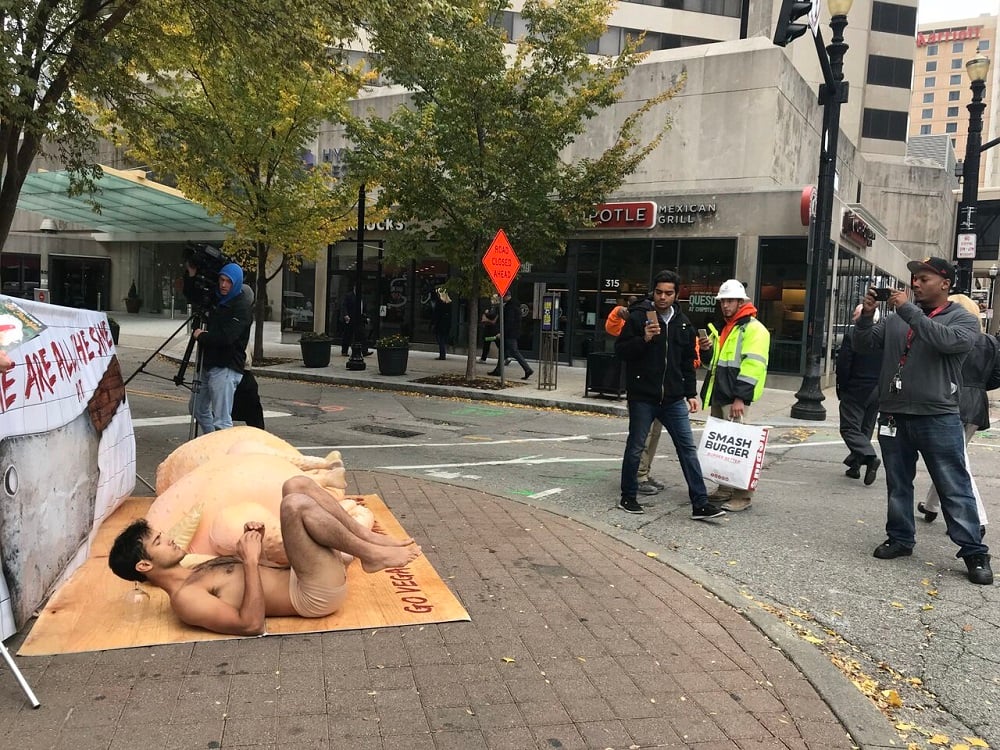 Meanwhile in Chattanooga, Tennessee, a PETA "turkey" led a special Thanksgiving food-tasting event by handing out free vegan Tofurky sandwiches and turkey-shaped stress-relief squeezies—to encourage everyone to make the holidays less stressful for turkeys by celebrating with delicious vegan meals. We made similar stops in Springfield, Illinois, and New York City.
https://twitter.com/peta/status/929037810476224513
We're keeping our actions eye-popping, as usual.
In Philadelphia, a PETA "zebra"—wearing little more than body paint—appeared outside City Hall to protest UniverSoul Circus' opening-night performance and urge people not to buy tickets to the show.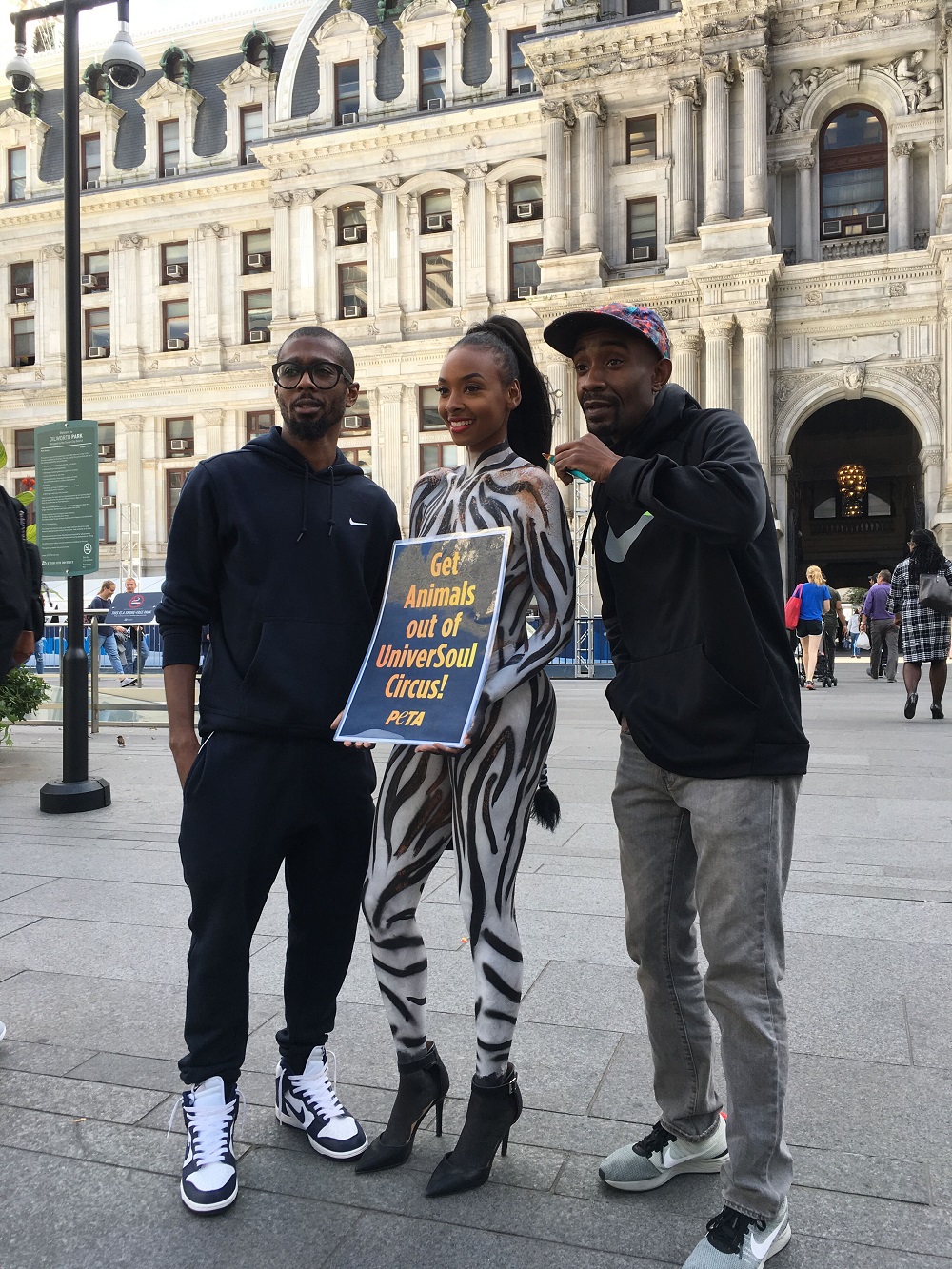 Our feathered "chicks" dished up free vegan Taco Bell burritos in Peoria, Arizona, eager to prove that eating cruelty-free is easier than ever, even at fast-food restaurants.
https://twitter.com/peta/status/931292469378953217
No matter where, PETA is there to save and protect animals.
In honor of World Vegan Day on November 1, PETA U.K. supporters gathered near London's iconic Tower Bridge to hold enormous green balloons that spelled out the word "Vegan" high in the air. The eye-catching protest is part of our plan to make vegan eating take flight in London and beyond.
Say it loud ✊ @PETAUK celebrates #WorldVeganDay with a BIG message for #London outside #TowerBridge. pic.twitter.com/0FqTWOxYwj

— PETA (@peta) November 1, 2017
What better time than World Vegan Month to discuss how going vegan can help reduce climate change? PETA Germany brought its vegan answer to COP23, the United Nations Climate Change Conference, last week in Bonn, Germany.
#ClimateChange begins on our plates 🍽 @PETADeutschland & two "bulls" had a message for #COP23 🌎 https://t.co/5RAYbaJj5L

— PETA (@peta) November 9, 2017
Recently, in honor of World Children's Day and World Vegan Month, PETA India took several actions that promoted compassion for mother cows and their newborn calves – who are stolen from them by the dairy industry.
Kids speak up against the killing of male calves by the dairy industry. #DitchDairy #ChildrensDay #NotYourMomNotYourMilk #GoVegan pic.twitter.com/3KtnXXfmQy

— PETA India (@PetaIndia) November 13, 2017
Motivated by all these inspiring activists?
Anything is possible when we stand together for animals. Learn how you can make a difference by joining our team!