Mere weeks after New York's Guggenheim Museum canceled two exhibits that pitted reptiles against each other and glorified dogfighting, PETA is protesting another cruel exhibit. On Saturday, a giant "mouse" with a sign proclaiming, "Terrifying Mice Is Cruelty, Not Art," descended on Castle Fitzjohns Gallery in New York City to denounce the use of live mice in Joseph Grazi's "Prehysteria" exhibit. The terrified animals got a little bit of peace when the cruel exhibition closed three hours early to avoid a confrontation with protesters.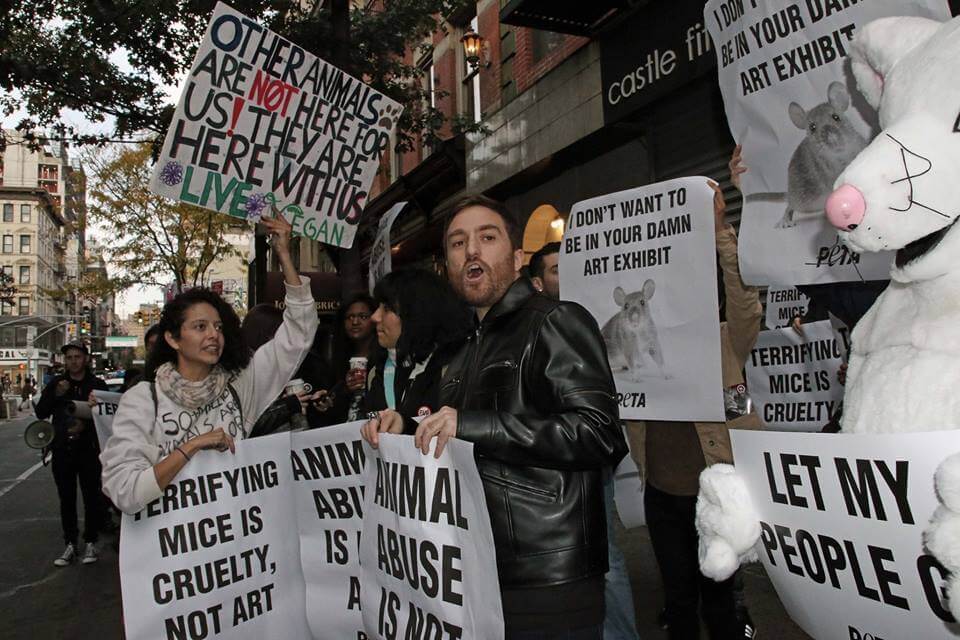 Image courtesy of Ruth McDade
After gallery staff pulled down the metal security gate hours before the planned 7 p.m. conclusion, activists spotted Grazi across the street. A few approached the artist in the hope of speaking with him, but he fled.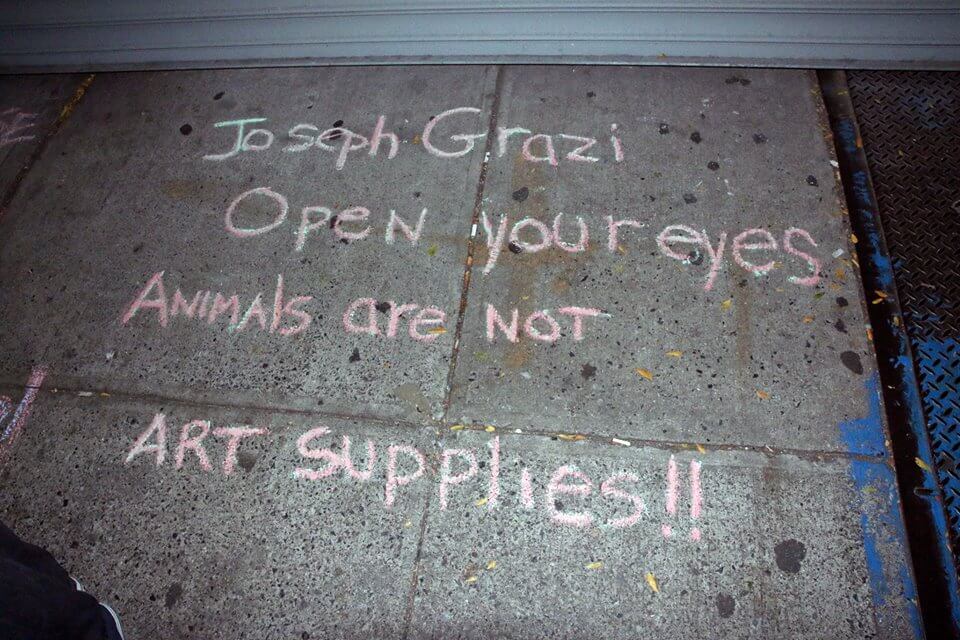 Image courtesy of Ruth McDade
On October 31, PETA sent an urgent letter calling on Grazi and the gallery's owner to do the decent thing by immediately removing the animals and sending them to safe adoptive homes, which PETA has offered to assist with.
PETA Condemns LES Art Gallery For Displaying Live Mice In The Floor https://t.co/jpOxf8E75g

— Gothamist (@Gothamist) November 1, 2017
As PETA President Ingrid Newkirk pointed out, "Forcing small animals into distressing situations is not creative but shows only an abiding ignorance of who animals are, their nature, and what makes them tick. Expressing an artistic vision and making social commentary are no longer acceptable if it is attempted by exploitation of powerless individuals."
At a Manhattan gallery where mice are embedded in the floor, and you walk on them. Cruelty or art? Story to come in @NYTMetro pic.twitter.com/ICkjJMdoMK

— Sarah Maslin Nir (@SarahMaslinNir) October 29, 2017
What You Can Do
You can speak up for these animals, too. Click the button below to tell Grazi and Castle Fitzjohns Gallery to stop exploiting mice immediately and commit to never using live animals as props again: