It's award season—and monkeys are among the winners! PETA is once again excited to be contributing to the exclusive "Everyone Wins" Nominee Gift Bags—given independently to top Oscar® nominees. This year's recipients—including Austin Butler, Michelle Yeoh, Colin Farrell, and Angela Bassett—will be able to support their necks and primate rights by spreading the word about the horrifying monkey trade with PETA's monkey travel pillow.
Most people are unaware that while Hollywood A-listers were comfortably seated in first class, monkeys were being crammed into airplane cargo holds and shipped to their deaths in U.S. laboratories. However, in a landmark move following a PETA campaign, the U.S. Fish and Wildlife Service has just stopped the importation of monkeys from around the world to U.S. laboratories until DNA testing can prove they weren't smuggled into the country.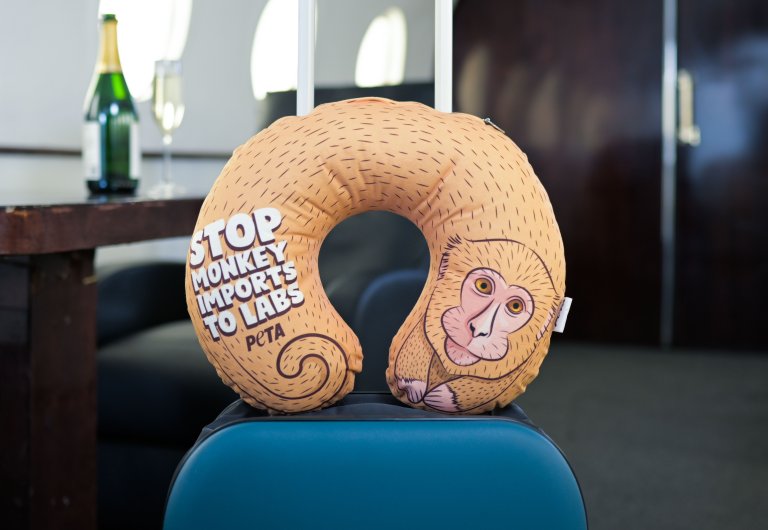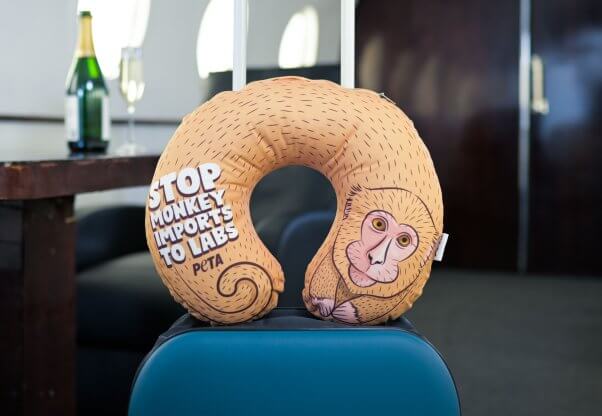 Lash Fary, founder of the premier marketing agency Distinctive Assets—the agency behind the VIP gift bags—joined PETA to illustrate the disturbing nightmare of monkey importation and has a message about how you can help stop it for good.
Experimenters' insatiable demand for monkeys supports a violent, greedy, and secretive industry that's driving two species of monkeys to extinction. Every year, tens of thousands of monkeys in Asia and Africa have been crammed into small crates and flown to the U.S. in dark, terrifying cargo holds so they could be caged in laboratories and used in experiments in which they were cut open, poisoned, crippled, addicted to drugs, electroshocked, and then killed.
Hunters trapped mother monkeys, pried their babies away and stuffed them into bags, and crammed the mothers—and any other surviving troop members—into crates. Some were sold directly to U.S. laboratories, while others ended up on squalid monkey factory farms first, where the mothers were forced to breed in filthy, barren conditions and traumatized again when their babies were stolen from them shortly after birth. During fiscal years 2019 to 2021, 407 shipments brought 92,430 monkeys to the U.S. from other countries, according to the Centers for Disease Control and Prevention (CDC).
Despite the millions of taxpayer dollars wasted and the hundreds of thousands of monkeys who have suffered and died in the past few decades, the experiments they've been subjected to haven't resulted in effective vaccines for HIV, tuberculosis, malaria, or any other dreaded human illness. This sordid trade also threatens human health. Dangerous and contagious viruses and bacteria, including one classified as a bioterrorism agent, regularly entered the U.S. in shipments of monkeys.
Unfortunately, monkeys are still bred in the U.S. and killed for useless experiments, so every nominee who uses their pillow will get us one step closer to ending cruel tests on animals. You can make a difference, too!
Help Monkeys From Your Phone
Help us end this vicious and deadly trade by joining this year's top Oscar® nominees in urging the CDC to shut down the cruel monkey-abduction pipeline permanently by texting TRANSPORT to 73822.*
Note: The "Everyone Wins" Nominee Gift Bags are NOT affiliated in any way with the OSCARS® or the Academy of Motion Picture Arts and Sciences, which does not award, sponsor, endorse, or provide these gift bags. Neither the Academy nor Distinctive Assets wants there to be any association between the "Everyone Wins" Nominee Gift Bags and the OSCARS® or the Academy.
*Message and data rates may apply. U.S. only. Text STOP to end and HELP for info. Periodic messaging. Full terms are available at: http://peta.vg/txt.