Highly pathogenic H5N2 bird flu has been detected on Missouri poultry farms. So to help citizens avoid contracting the strain and to raise awareness of how animal agriculture contributes to the spread of bird flu, PETA has sent a letter to Gov. Jay Nixon offering the state a supply of these specially printed face masks: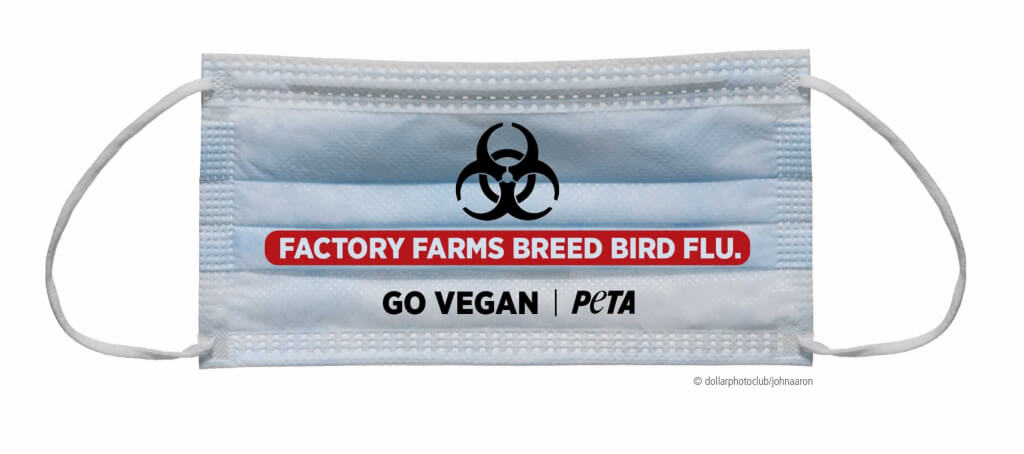 As PETA explained in our letter to Gov. Nixon, a single shed on a chicken or turkey farm may house tens of thousands of birds who live mired in their own waste and breathe ammonia-laden air that burns their lungs and damages their immune systems. These filthy conditions are also an ideal breeding ground for dangerous pathogens, and all bird and swine flus have come from such conditions. And when one bird gets sick, the disease can quickly spread to the others.
According to the World Health Organization, humans can become infected with bird flu by eating undercooked, infected chicken and by eating food prepared on the same cutting board as contaminated chicken meat or eggs—and in many other easy ways. Even touching the broken eggshells of infected eggs puts consumers at risk.
PETA is asking the governor to try vegan foods and to encourage his constituents to do the same, and we've offered to help with recipes, tips, and even free food.