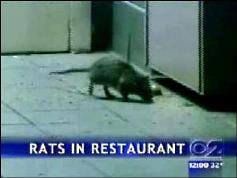 Proving once again that the folks in our Factory-Farming Campaigns Department are just brimming with so much compassion it could make you sick, they've just extended an offer to help our archenemy, KFC, deal with its apparent rodent problem. After video footage of a KFC in Greenwich Village that was overrun by rats on Friday went just about everywhere on the Internet, PETA sent a letter to the eatery's owner, offering to help him implement a humane rodent-control program at his restaurant. Here's what PETA VP Bruce Friedrich had to say about the incident:
"This store's lethal attempt to deal with rodents has failed miserably. Although KFC refuses to work with us toward minimizing the suffering of the hundreds of millions of birds killed for its restaurants every year, we hope that this store owner will work with us on a safe, effective, and humane solution to the rat infestation."
Honestly, all this turning the other cheek and being nice to our enemies has me reeling. I'd go over to the other side of the office right now and congratulate our Factory-Farming Campaigns Department, but I'm worried that I'd be bowled over by all the excess compassion floating around. Here's PETA's letter to the store.