Just in case you weren't aware, you don't need to be a professional activist to make furriers in your neighborhood wish to God that they could just crawl into a hole somewhere, or maybe pick any other profession. All you need are some signs, a few good friends, and an hour or so of free time. Anyway, here are a few great pictures that some folks in Fort Lauderdale sent me from a protest they held outside AA Martin's Furs last week. Setting the animal issues aside for a moment, what the hell do you need a fur coat for in Florida?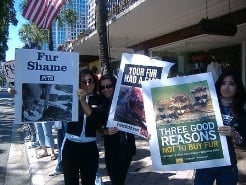 According to Michael, who sent in these pics, the owners of the store asked them to call off the protest as they'd had a recent family crisis. Feel free to comment here, because I'll admit that there's the tiniest bit of a gray area: If your job involves paying people to raise animals in cages so small that many of them are insane by the time they're anally electrocuted, do you deserve a little bit of slack from the people who are telling you to stop it if you've had a rough week?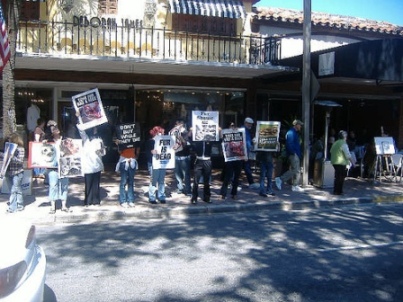 And in more good news for fur-bearing animals everywhere (this time from Portland), check this out.