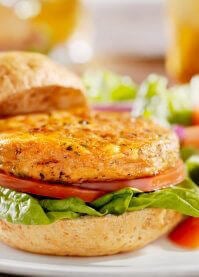 © Lauri Patterson | iStockphoto.com
Don't adjust your screen—you read that right. In less than a year, a popular butcher shop has grown from one store to 30, and we couldn't be happier. The Vegetarian Butcher in the Netherlands offers long glass display cases stocked with tempting "cuts" of delicious faux meats, and customers can't get enough.
Why is De Vegetarische Slager butchering its animal flesh–hawking competitors? Perhaps because 75 percent of people in the Netherlands either no longer eat meat daily or are full-time vegetarians or vegans. Radio Netherlands Worldwide cites cruelty to animals, the risk of dangerous infections, and the overuse of antibiotics as probable reasons for the national gustatory shift.
Vegetarian Butcher founder Niko Koffeman adds meat's devastating impact on the environment to the list of reasons people are flocking to faux. "Especially," he points out, "since we can create a product that has the exact same look, taste and bite as the similar meat product."
While we anxiously await a Vegetarian Butcher shop stateside, most grocery stores in the U.S. already carry yummy faux meats. PETA has done the tastework for you and ranked our favorites.
Written by Michelle Kretzer