"If you wouldn't eat your dog, why eat a pig?" That's the bold message on a new PETA Latino billboard that just went up across the street from a Natural Grocers store in Phoenix. The group is pushing folks to enjoy a vegan feast this year for Nochebuena, a Christmas Eve holiday celebrated in the Latinx community. PETA Latino's vegan Nochebuena message reminds everyone that the best way to celebrate the spirit of the season is to extend peace and goodwill to all—animals included.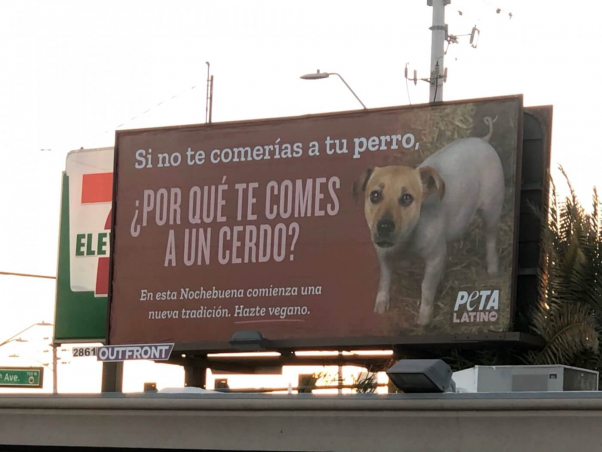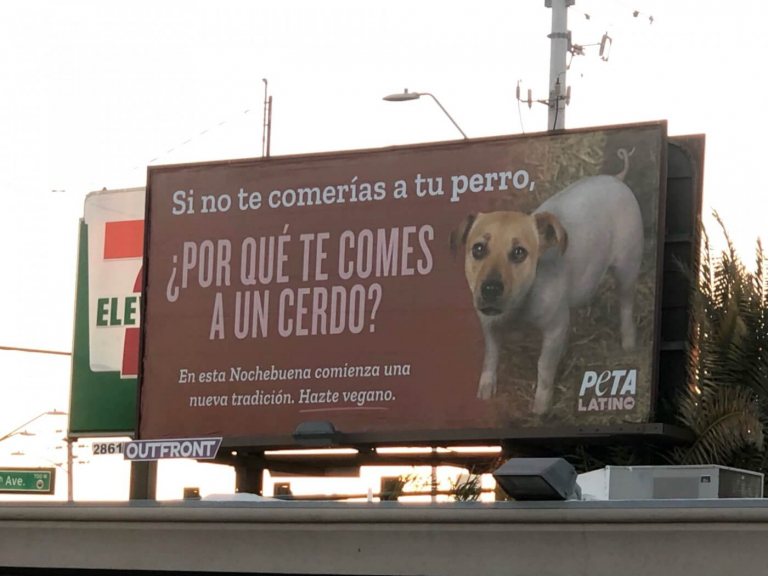 Here's Why You Shouldn't Eat Pigs for Nochebuena
It's speciesist to believe that pigs should be treated any differently from dogs. When it comes to having feelings, loving their families, and valuing their lives, pigs are no different from puppies or humans.
But in today's meat industry, mother pigs are squeezed into narrow metal stalls barely larger than their bodies and kept almost constantly pregnant or nursing. Pigs' tails are chopped off, their teeth are cut with pliers, and males are castrated—all without any pain relief. At the slaughterhouse, they're hung upside down—sometimes while still conscious—and bled to death.
There's nothing festive about this suffering.
Enjoy a 'NocheVegana'—PETA Latino Will Help!
PETA Latino stands ready to help people celebrate a humane holiday. We offer vegan recipe guides for Nochebuena and the entire holiday season along with a vegan starter kit filled with more recipes, shopping tips, and guidance on making the switch.
Note: The billboard is located at 646 W. Indian School Rd. in Phoenix.