It's been called "the execution capital of the world": Huntsville, Texas, houses the death chambers of the state that leads the nation in carrying out capital punishment.
So with the death penalty in the news as a result of botched executions in Oklahoma and Arizona, PETA erected a billboard—in the heart of Texas—that'll make people on both sides of the debate think about showing clemency themselves: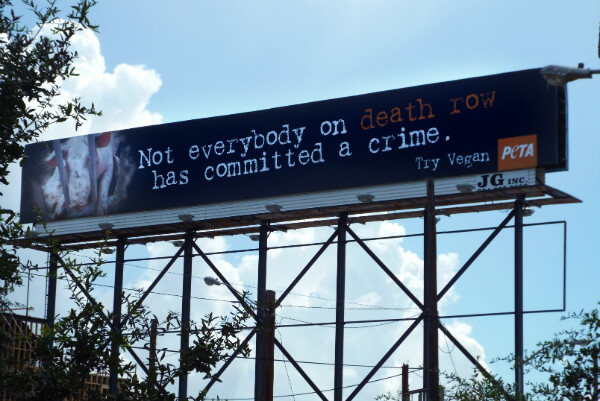 Botched executions don't occur just in the justice system—they're commonplace in the real execution capitals of the world: slaughterhouses.
"[T]hey're still fully conscious and squealing."
In a typical pig slaughterhouse, up to 1,100 pigs are killed every hour. Many are improperly stunned and, as a result, are still struggling when they reach the workers who slash their throats. They're then put in a scalding tank, which is intended to soften their skin and remove their hair.
According to one slaughterhouse worker, "There's no way these animals can bleed out in the few minutes it takes to get up the ramp. By the time they hit the scalding tank, they're still fully conscious and squealing. Happens all the time."
"They die piece by piece."
Cow slaughter lines move so quickly that the animals are often improperly stunned and are still conscious when their throats are cut and their bodies are hacked apart. A longtime slaughterhouse worker, Ramon Moreno, told The Washington Post that he frequently has to cut the legs off conscious cows. "They blink. They make noises," he said. "The head moves, the eyes are wide and looking around. … They die piece by piece."
"[It] was so loud that you had to yell to the worker next to you."
At chicken slaughterhouses, workers violently grab the birds and force them upside down into shackles, breaking many birds' legs in the process. The terrified animals struggle to escape, but they cannot. An investigator at a Perdue slaughterhouse reported that "the screaming of the birds and the frenzied flapping of their wings was so loud that you had to yell to the worker next to you."
Many of the struggling birds miss the throat-cutting blade, and according to U.S. Department of Agriculture records, every year, millions of chickens are still conscious when they're dunked into the scalding-hot defeathering tanks.
The innocent should never be condemned to die.
Millions of animals are victims of botched executions every year. But none of these animals ever committed a crime. They simply had the misfortune of being born a pig, a cow, or a chicken in a society that'll gladly hand out a death sentence just for the fleeting taste of their flesh. No matter what a person's position on capital punishment is, we should all be able to agree that the innocent should never be condemned to die.