UPDATE: Victory! As the Chief Saunooke Bear Park struggled, a private benefactor offered to purchase all of the bears. The park quickly accepted the offer and the bears were finally retired to a spacious sanctuary. Read more about the victory and how the bears are doing now here.
Originally posted on January 15, 2013:
When you mess with bears, sometimes you get hurt. Of course, PETA's "bear" didn't actually harm a hair on the heads of the animal abusers at Chief Saunooke Bear Park (CSBP) during a protest last weekend, but he and about two dozen of his friends did bite back against the cruelty at the vile roadside zoo.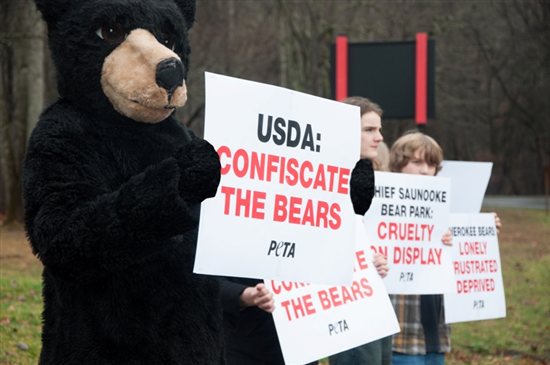 PETA's protest comes less than a week after the release of the findings of our undercover investigation of CSBP that unearthed evidence of systemic neglect and abuse of bears (including shooting and eating one of them), threats of violence, illegal drug use, sexual harassment, and racism by the park's staff. We are calling for the closure of the hellish bear pits and the seizure of the surviving animals.
What You Can Do
If you didn't make it to the demonstration, don't worry—you can still help the bears suffering at CSBP by asking the U.S. Department of Agriculture to confiscate all animals from the shabby roadside zoo immediately and place them in a suitable sanctuary.