Two things that PETA President Ingrid E. Newkirk is passionate about are helping animals (no surprise there) and auto racing, so perhaps this was inevitable: After reading that NASCAR sponsorship this season is at a low, PETA has asked racing superstar Dale Earnhardt Jr. to consider using the available space on his car to spread a lifesaving spay-and-neuter message.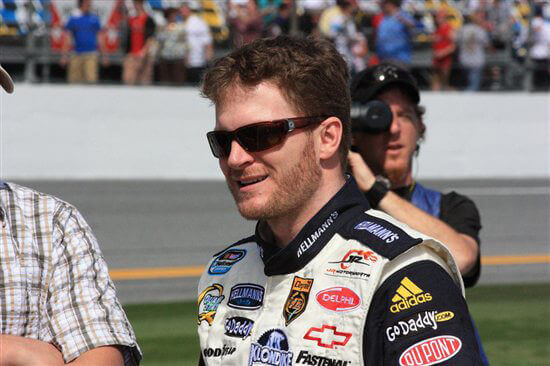 tedmurphy | cc by 2.0 
Taking the Lead Against Overpopulation
PETA has observed firsthand the effects of animal homelessness from its work on the front lines of animal protection. In Earnhardt's home state of North Carolina, PETA's Community Animal Project (CAP) rescues animals, even when that means crawling through sewers, searching through junkyards, scaling trees, dodging cars, or enticing frightened strays to safety. CAP also delivers food, doghouses, and straw bedding to neglected animals who have never known a kind word or touch—and they return to monitor the animals' conditions, check their housing, and make sure that they have enough to eat and drink.
As PETA's letter to Earnhardt points out, around half of the 6 to 8 million animals who enter U.S. shelters each year must be euthanized for lack of enough good homes. Others never find a refuge and are left to fend for themselves on the streets, where they create more litters and often succumb to exposure or disease or even are abused by cruel people.
Speeding Toward a Solution
The solution to animal overpopulation is to reduce the birth rate through spaying and neutering—and once again, PETA is leading efforts to facilitate these vital procedures. Its mobile veterinary clinics offer low-cost to no-cost sterilization and other veterinary services in the most impoverished areas of North Carolina for families who cannot afford to have their animals fixed.
By placing a message on his car promoting spaying and neutering, Earnhardt could help his many fans understand that they can play a role in reducing the overpopulation of dogs and cats and drastically reducing their suffering.
What You Can Do
Whether your ride is a stock car or a station wagon, you can help save the lives of homeless animals by spaying and neutering your own companions and working to pass mandatory spay/neuter legislation in your community.