More than 20 years ago, model and activist Christy Turlington posed nude for a PETA campaign proclaiming, "I'd rather go naked than wear fur." Now, the anti-fur promotion is being featured in the catalog of the Museum of Modern Art's (MoMA) new exhibition, "Items: Is Fashion Modern?"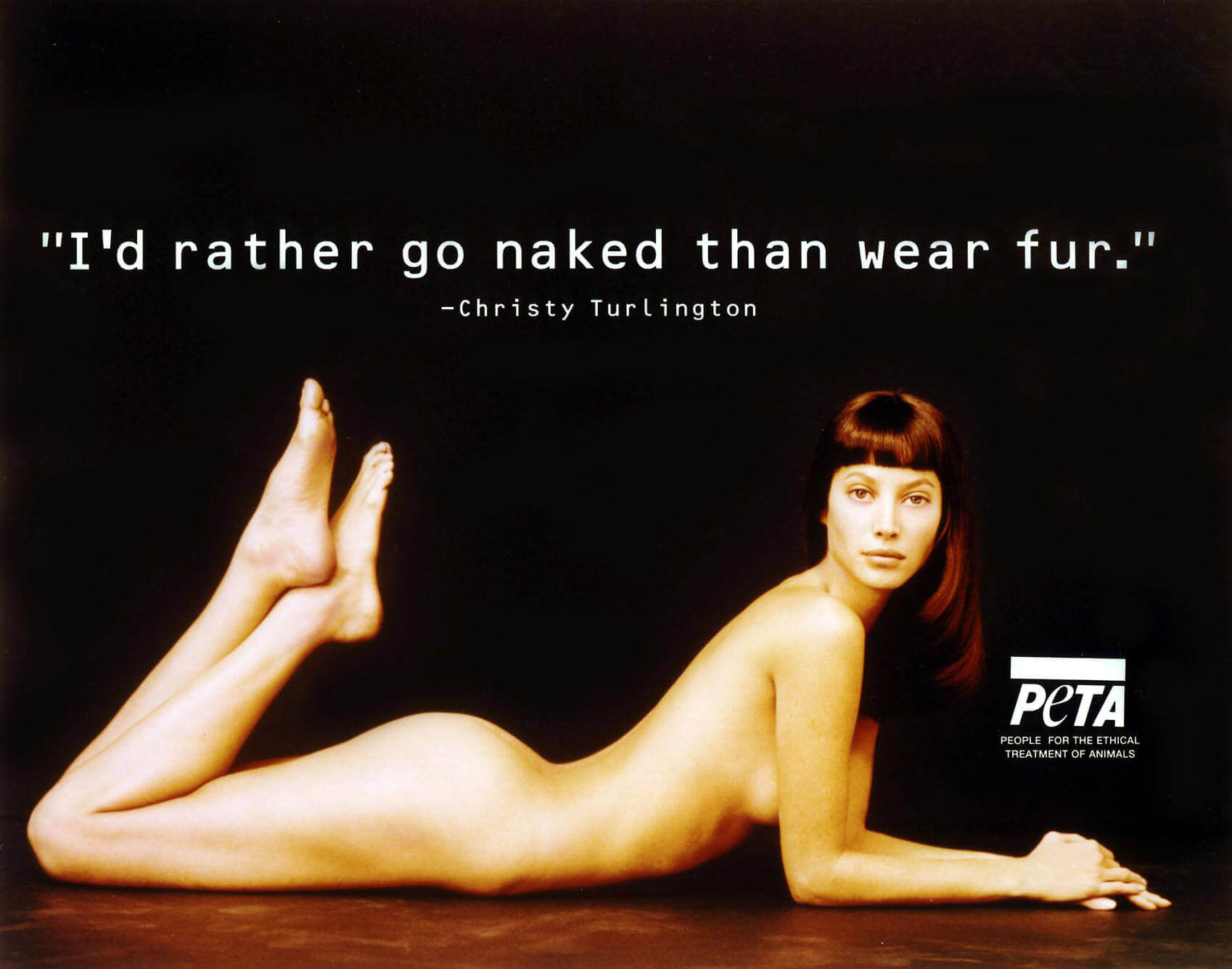 The exhibit showcases 111 items that have had a major impact on the fashion industry over the last century, and a fur coat donated to PETA for protests is one of them. We're thankful for the opportunity to remind folks that the future of fashion lies in animal-friendly, sustainable materials and that a museum is the only place that animal-fur garments belong.
Even the smallest bit of fur is enormously cruel and unnecessary. #DropTheFur pic.twitter.com/KSPfaefIcx

— PETA (@peta) March 6, 2017
PETA is thrilled to be raising awareness by including this item alongside some of the most notable and transformative pieces from the fashion world. Every year, millions of animals are killed for the clothing industry—all in the name of fashion. Whether the clothes come from Chinese fur farms, Indian slaughterhouses, or the Australian outback, an immeasurable amount of suffering goes into every fur-trimmed jacket, leather belt, and wool sweater.
This isn't the first time that PETA has taken part in a MoMA event. Last year, PETA Senior Vice President Dan Mathews attended a MoMA panel discussion, in which he explained how PETA's "I'd Rather Go Naked Than Wear Fur" ads are the modern, updated version of the fur trade's "What Becomes a Legend Most?" Blackglama ads from the '70s and '80s, which featured mink-clad stars such as Liza Minnelli, Cher, and Brigitte Bardot—all of whom ended up becoming animal advocates. Mathews made this case in seven minutes.
See MoMA's Exhibition for Yourself
Compassionate clothing is on the rise. Faux is the future of fashion—even Vogue Paris and Gisele Bündchen think so. PETA is thrilled that exhibition attendees will be exposed to this message. If you're a New York City native—or if you're planning to visit the Big Apple in the coming months—you can check out the MoMA exhibition, too.
Now through January 28, 2018, you can see PETA's inclusion at MoMA's "Items: Is Fashion Modern?" exhibit. Click the button below to learn more about attending the exhibition.
Be Part of the Future—Shop Compassionately
Finding cruelty-free clothing and accessories has never been easier. Whether you're looking for a cozy wool-free sweater or vegan combat boots, you're sure to be able to find it at your local mall. Get started below.