In a newly released report, published on May 16, 2017, the military's Defense Health Agency states that the use of live animals in trauma training drills to teach service members to treat battlefield injuries—a practice known as "live tissue training"—is "outdated and cost-prohibitive." The report discusses the Pentagon's new effort to provide troops with more realistic, efficient, cost-effective training methods: the high-tech human-patient simulators that PETA has been leading the push for the armed forces to adopt.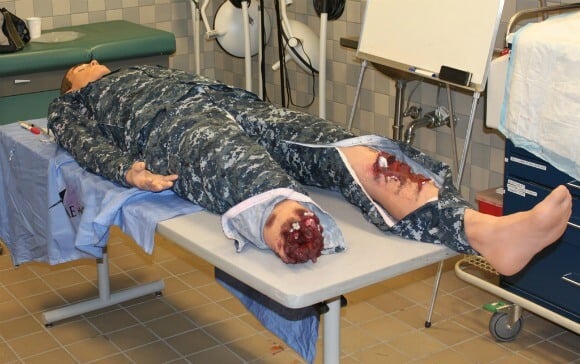 And in a separate report published the same day, the Defense Health Agency described trauma training on animals as "not anatomically accurate." The PowerPoint presentation showcased simulators developed by manufacturer Operative Experience that feature realistic skin, tissue, bones, joints, muscles, organs, and blood vessels. The Pentagon noted that those models are already being used successfully by Special Operations Forces and the Marine Corps.
Editorial boards across the country—ranging from The New York Times to the Pittsburgh Post-Gazette to USA Today, as well as national medical organizations and a national veterans group—also agree with us that it's time to stop mutilating animals to train our troops. The military's own studies confirm that realistic human simulators can breathe, bleed, and even die and that they're as good as or better than using animals for teaching critical lifesaving skills that can save human lives.
Pressure from hundreds of thousands of PETA supporters, bipartisan members of Congress, and veterans got the U.S. Army to reduce substantially the number of live animals used in trauma training drills and the U.S. Coast Guard to suspend its use of animals entirely.
Now, we need the Department of Defense to pay attention, too.
What You Can Do
Please urge your congressional representatives to cosponsor the bipartisan Battlefield Excellence through Superior Training (BEST) Practices Act (H.R. 1243/S. 498), which, if passed, would require the military to use superior human-patient simulators instead of animals in trauma training.