Following pressure from PETA and U.S. Rep. Lucille Roybal-Allard (D-Calif.), the U.S. Coast Guard has become the first branch of the military to suspend the shooting, stabbing, and killing of animals in trauma training drills while it studies available human simulators and other non-animal training methods that could be used instead. The Coast Guard confirmed that the moratorium came into effect after a PETA exposé prompted an official review by the agency.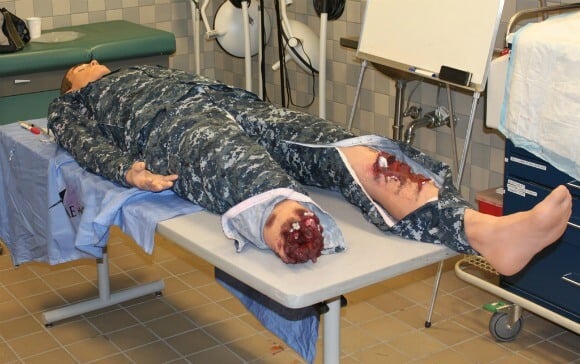 PETA award recipient Roybal-Allard, who wrote to the Coast Guard in January to question its continued use of animals, was instrumental in winning this victory. She announced the suspension in an op-ed that appears today in The Hill.
In April 2012, PETA released a disturbing eyewitness exposé of a Coast Guard trauma training drill conducted by contractor Tier 1 Group. Video footage showed instructors cutting off inadequately sedated goats' legs with tree trimmers, cutting into their abdomens to pull out their organs, and stabbing them with scalpels as they moaned and kicked. Following complaints by PETA, the U.S. Department of Agriculture cited the contractor for violating the federal Animal Welfare Act in May 2012. When another contract was awarded to Tier 1 Group, 11 members of Congress urged the U.S. Government Accountability Office to investigate. By 2013, the U.S. Army had greatly reduced its use of animals, and in 2014, the Coast Guard met with PETA and reduced its animal use in training drills by 50 percent.
PETA is calling on the Coast Guard, as well as the entire Department of Defense, to end all live tissue training—and a bipartisan bill proposed in Congress would do just that. The Battlefield Excellence through Superior Training (BEST) Practices Act (H.R. 1243/S. 498) would end the military's shooting, stabbing, dismembering, burning, and killing of thousands of animals each year in abusive and archaic trauma training drills and instead require the use of superior human-simulation models.
What You Can Do
Urge your U.S. legislators to cosponsor the BEST Practices Act in order to provide our troops with better training, save millions in taxpayer dollars, and spare thousands of animals' lives.