Janice and her son, Jayke, didn't know where else to turn. Penelope, a dog they had adopted from an animal shelter, had gotten out of the yard, been hit by a car, and had injured her right front leg so severely that it dangled uselessly, all nerve sensation lost. Although she had been treated by a veterinarian after the accident, there was nothing more that could be done for her permanently nerve-damaged leg.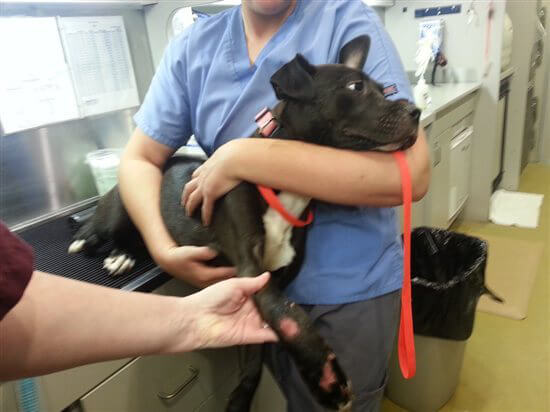 Unable to use the numb limb, Penelope simply dragged it around, and it quickly became covered with bleeding sores. The only solution was amputation, but Janice is a single mother on a limited budget who couldn't afford the surgery. Heartbroken, she and Jayke were faced with euthanizing their otherwise healthy, happy dog.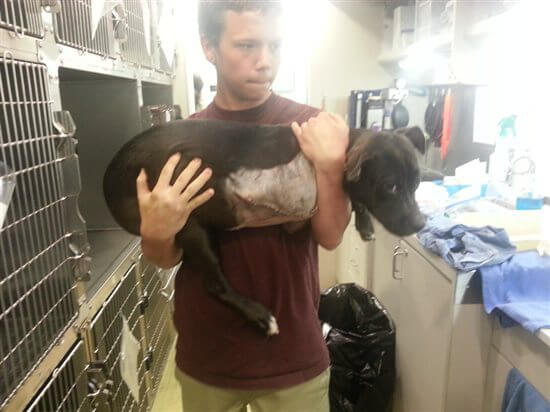 In a letter to the editor of the local newspaper, Jayke describes what happened next: "Finally, I called PETA to see if they could help. They agreed to do the amputation in their mobile clinic and worked with us to make the cost manageable—about a tenth of what I had been told by the vet it would cost me. They saved my Penelope's life and helped us when no one else would. I am forever grateful to PETA for all they have done."
Happy to oblige! We're just glad that Penelope is on the road to recovery and back to greeting Janice and Jayke at the door with her signature hugs, albeit minus an "arm."
What You Can Do
Please support PETA's no-cost to low-cost mobile spay/neuter clinics, which also provide low-cost vaccinations, flea treatment, and the occasional emergency surgery. Because the clinics offer services below cost, they operate at a loss and therefore rely on donations to keep the doors open and the wheels rolling.