What becomes of the turkeys who are "pardoned" by the president after Thanksgiving? You'll be shocked by what PETA found when we  paid a visit to Gobbler's Rest on the campus of Virginia Tech, where four turkeys "pardoned" by President Donald J. Trump in 2018 and 2019 are kept. Video and photographic evidence captured on-site proves that conditions for the birds are abysmal. That's why PETA is calling on Virginia Tech to allow us to relocate these birds to a proper sanctuary, where they can enjoy the basic freedoms that most Americans assumed they already had.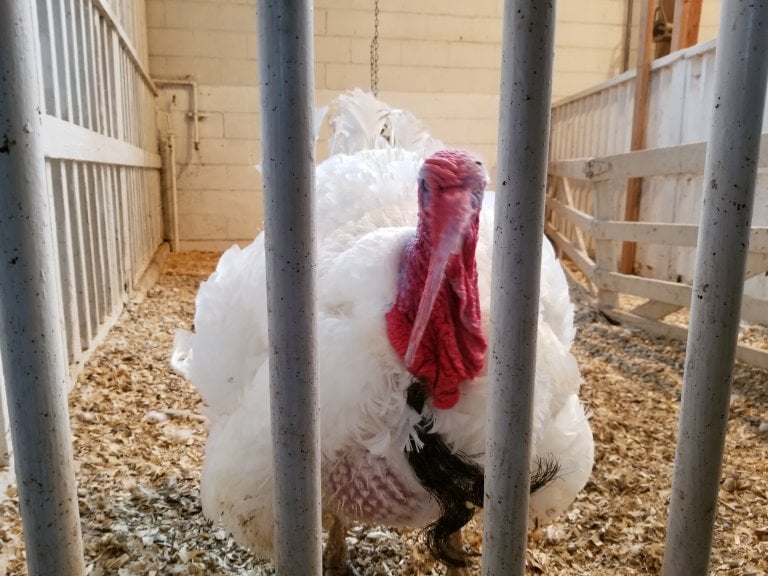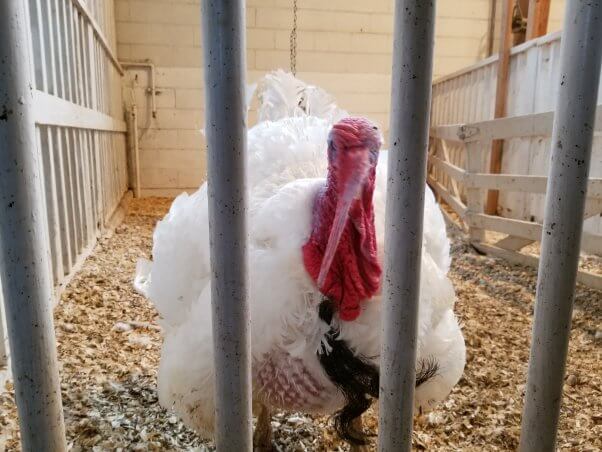 To help bring awareness to the plight of these ailing birds, PETA is running an advertisement in the print edition of The Roanoke Times. Our ad spotlights how Virginia Tech has made a mockery of Trump's symbolic gesture of pardoning the four turkeys who were sent to the school.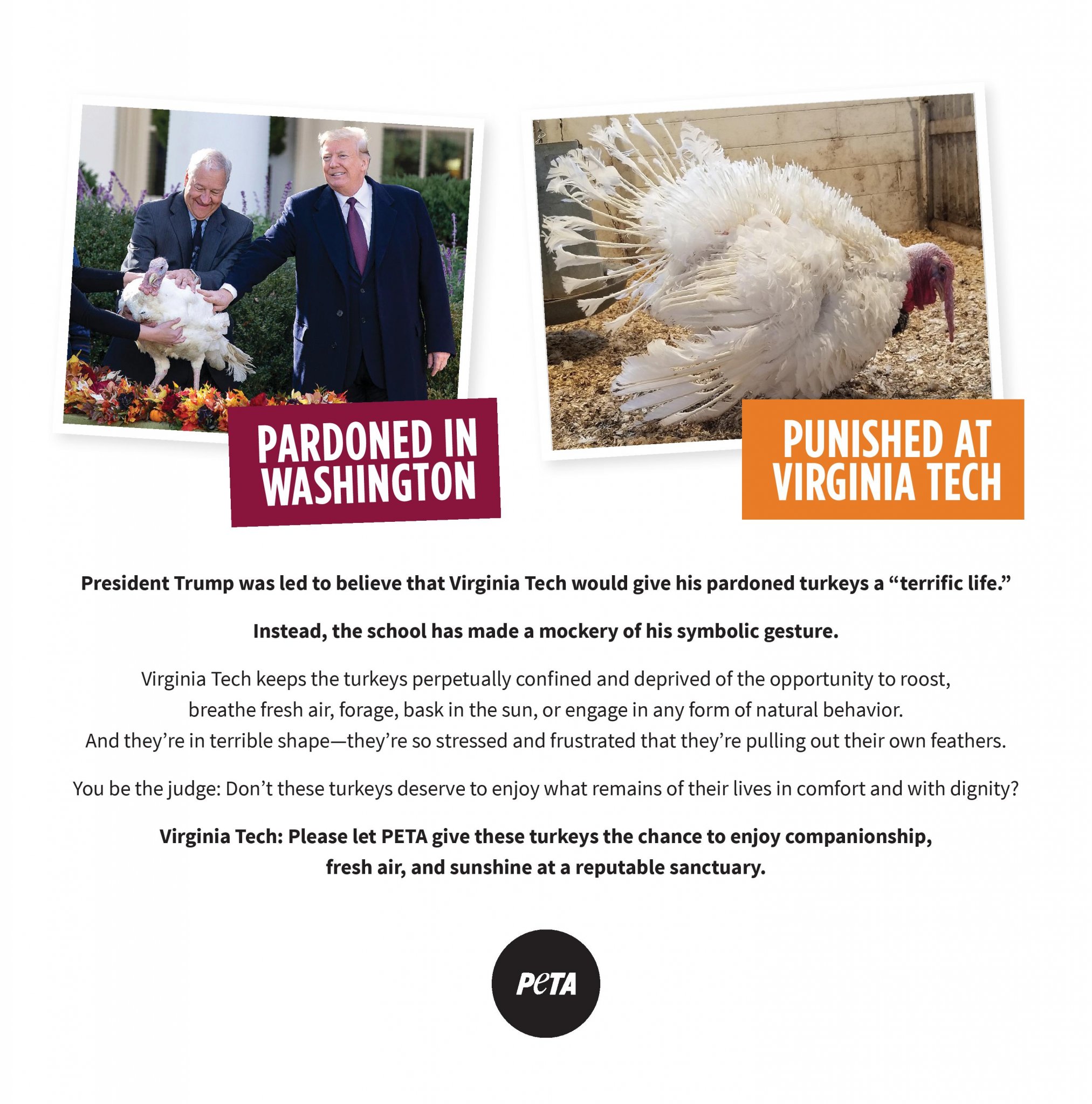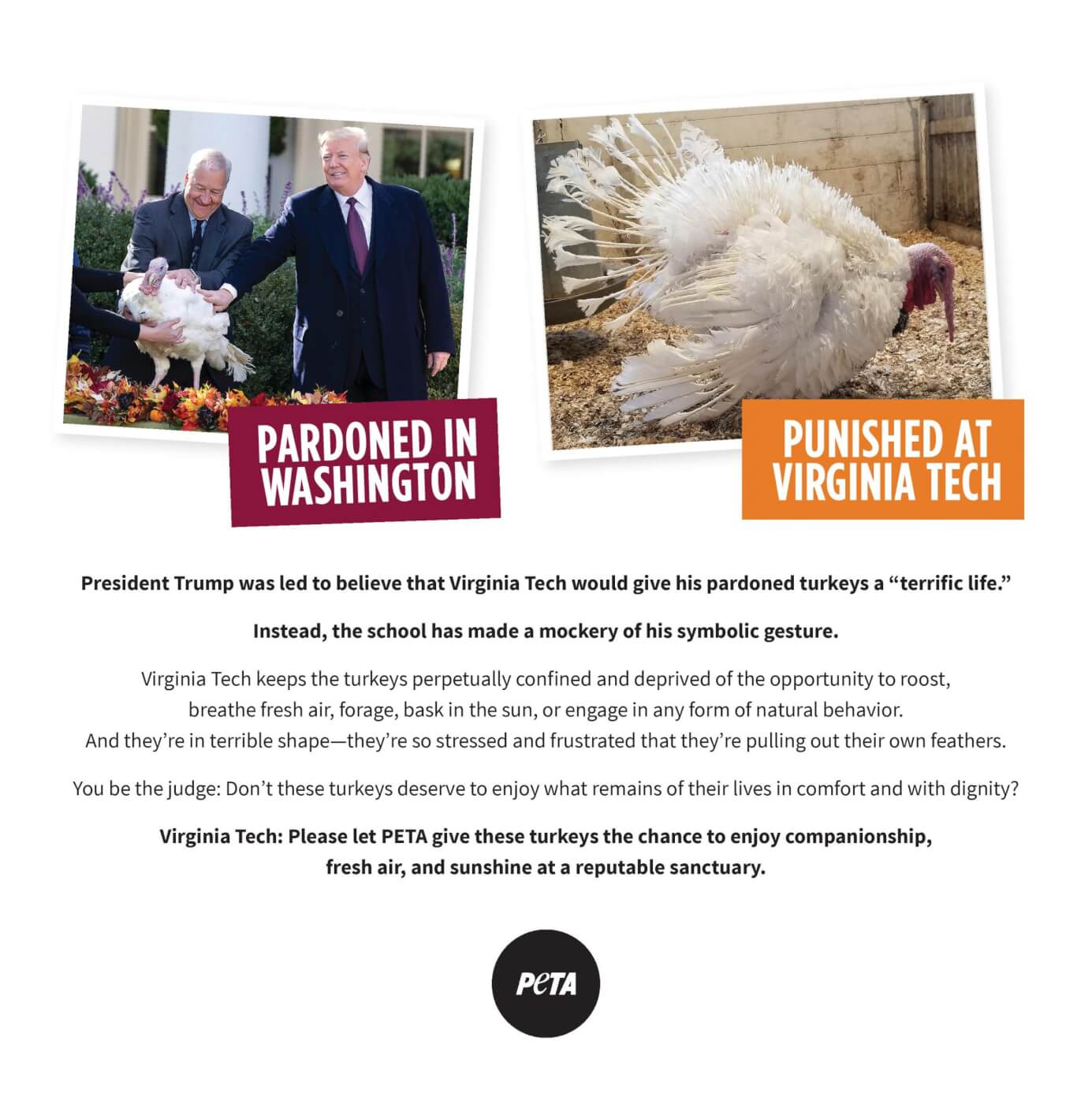 PETA's ad urges Virginia Tech to let us place these turkeys at a reputable sanctuary. There, they'd finally enjoy true retirement, complete with opportunities to enjoy the outdoors and feel grass beneath their feet.
PETA has already secured placement for these birds and is standing by to transport them to a place of true rest for the remainder of their lives. Virginia Tech should make the merciful, decent choice for these elderly, ailing individuals.
What 'Pardoned' Turkeys Endure at Virginia Tech
Most Americans would be shocked to learn that these turkeys (named Peas, Carrots, Bread, and Butter) are unable to breathe fresh air, forage, or feel the sun on their backs in the Gobbler's Rest pavilion.
Two of these highly social birds are kept alone. None can dust bathe or roost—things that are very important to them—or even hide from bright artificial lighting. According to a veterinarian who reviewed the video footage, these conditions present "numerous, cumulative, and chronic stressors that severely compromise the physical and psychological well-being of these turkeys."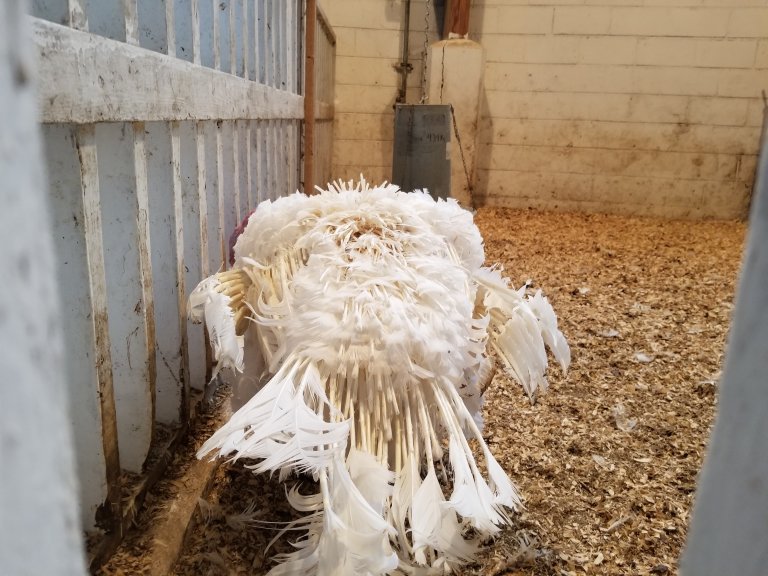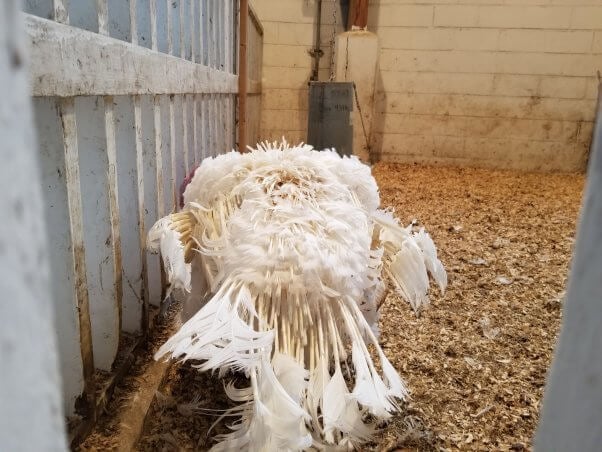 The "pardoned" turkeys are evidently so frustrated by their present conditions that they're pulling out their own—and each other's—feathers. Their inability to escape the hard floor may have caused a featherless patch to develop on Carrots' chest. The brown staining on Bread's and Butter's tail feathers could be symptomatic of tremendous stress and gastrointestinal ailments or could simply show that the birds cannot avoid their own feces in the cramped pen.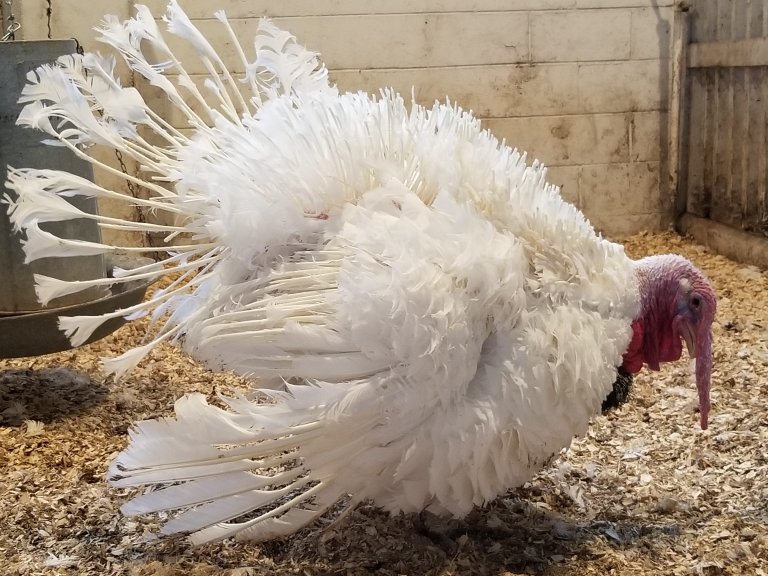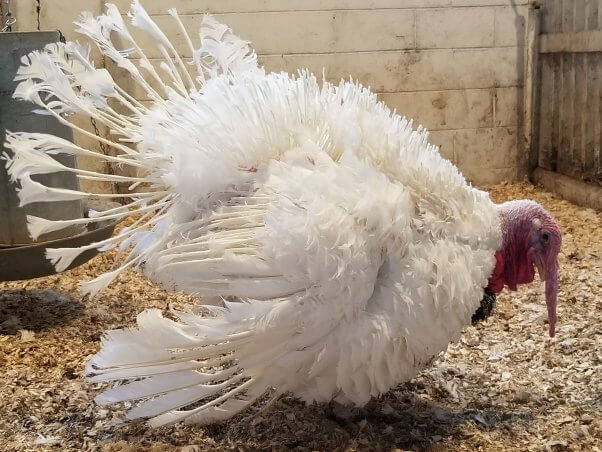 Unforgivable: How Humans Treat Turkeys Used for Food
Every year, one turkey is "pardoned" at the White House, but there's always another on stand-by. That's because the birds are at such a high risk of falling ill or even dying before the ceremony takes place that a backup is needed.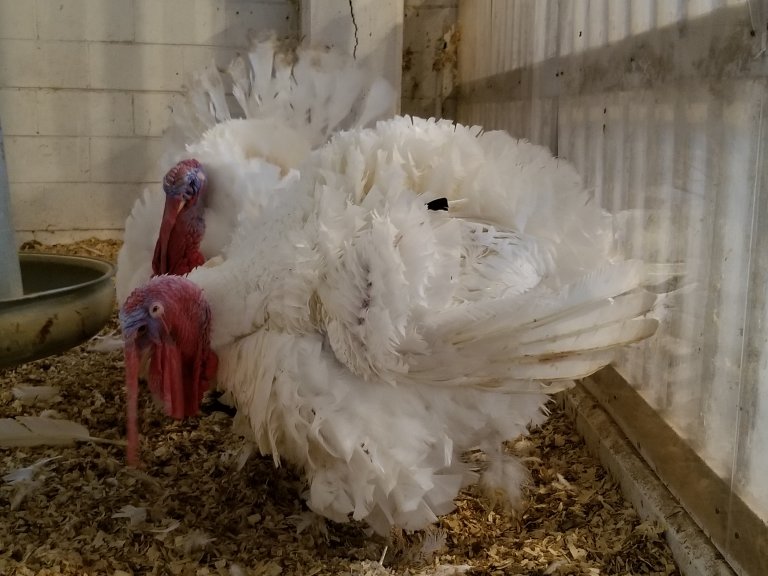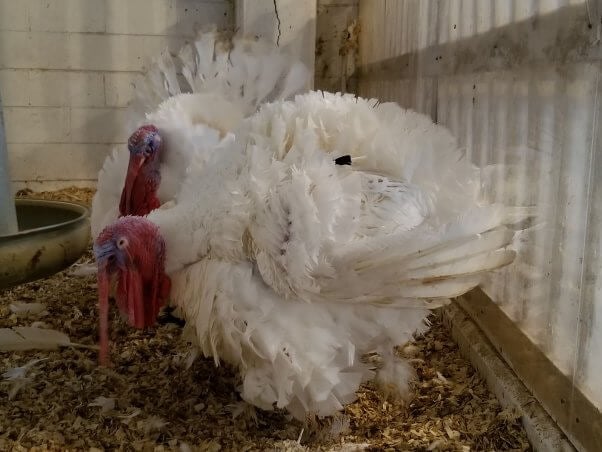 On today's American farms, turkeys are bred to grow so fast that their organs can barely keep up, if they keep up at all. Up to 10% of turkeys on modern farms die before they even reach the slaughterhouse. Turkeys on more than 99% of U.S. farms are so unnaturally large that many can't even stand without experiencing pain.
Virginia Tech has worked closely for many decades with an industry that treats turkeys as commodities, fattening them up so much that they have difficulty carrying their own weight and then sometimes suffer heart attacks or are sent on a frightening journey to the slaughterhouse.
Take Action for Turkeys!
Times and hearts change. Most people now understand that turkeys are individuals with complex feelings and emotions. They're social, playful birds who chirp and cluck along to music. It's speciesist to believe that they are any less capable of suffering than the cats and dogs with whom many of us lovingly share our homes. That's why you shouldn't eat turkey for Thanksgiving, for Christmas, or at any other time of the year.
PETA can help you prepare a fabulous holiday feast that's 100% plant-based. Celebrating with vegan meals is a great way to show animals—and your guests—that you care about them. What are you waiting for? Check out some delectable holiday recipes: