Based on SeaWorld's plummeting stock value and decreased attendance and the blow that it was dealt recently when the California Coastal Commission banned its captive-breeding program in that state, one would think that the parks would take any guest they could get. But that wasn't the case when it came to marine biologist and orca expert Ingrid Visser, Ph.D., and former SeaWorld orca trainer John Hargrove, who recently visited SeaWorld San Diego as part of an ongoing documentary project called Superpod, about wild orcas and conservation." The pair was asked to leave—but not before collecting some troubling footage with the SUPERPOD documentary crew:
In the video, you can see that the orcas at SeaWorld float listlessly in the tanks and that one mother orca apparently refuses to nurse her baby. Visser, who has studied orcas for decades in the wild, and Hargrove note bruising on the mother orca's stomach where the calf repeatedly tried and was denied nursing. Hargrove suggests the mother is too "depressed" to nurse her calf.
"Here in captivity, we see stereotypic behaviors. And these are abnormal, repetitive behaviors that have no outwardly, obvious function. So, for example, staring at a concrete wall."

—Ingrid Visser, Ph.D.
For a company that claims to care so deeply for the animals it holds captive, you might think that SeaWorld would care more about tending to the ailing orcas in this video than ushering out bad PR. "So SeaWorld doesn't like me as a scientist," Visser says. "They don't like the fact that I'm seeing things in the wild that reflect badly on them with the orca[s] in captivity here."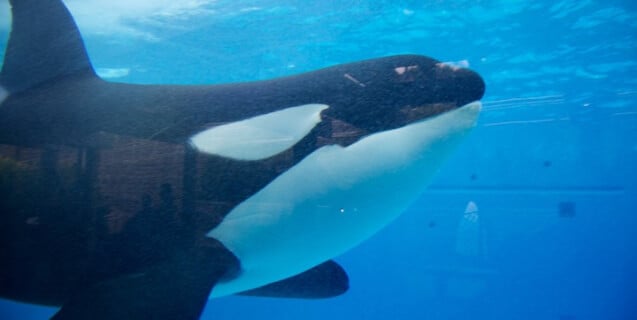 What You Can Do
Share this blog post, and tell SeaWorld to retire the orcas to ocean sanctuaries.