For decades, an African elephant named Nosey languished in chains as she was carted around the country and exploited for entertainment. She was denied the crucial companionship of other elephants, which was surely devastating for her. But thankfully, her life took a turn for the better after officials in Lawrence County, Alabama, as well as PETA and tens of thousands of compassionate people took action. Nosey was freed from her longtime abuser and sent to rest and recover at her new permanent home, The Elephant Sanctuary in Tennessee (TES). And now there's more good news! TES has announced that Nosey has been introduced to two new Asian elephant friends, Sissy and Tarra.
In their native homes, elephants live surrounded by family and friends. By this point in her life, Nosey would've been an auntie and possibly even a mother. But humans took that opportunity away from her. When she was just a calf, her family was gunned down. She was captured and sold to the circus. Because she was alone for most of her life, she never had a chance to learn social skills or important life lessons from other elephants.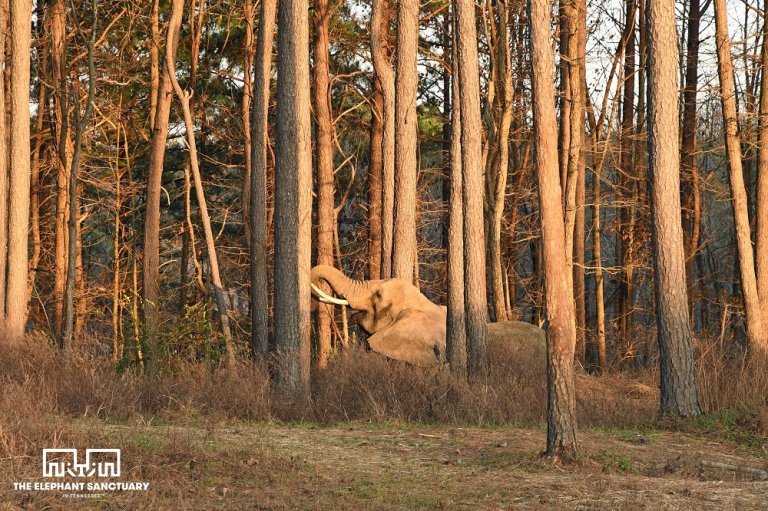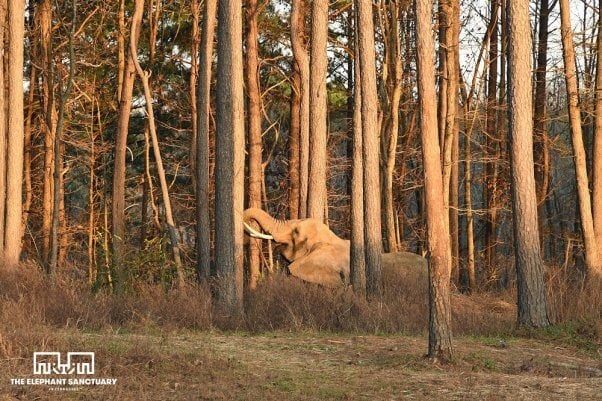 The Elephant Sanctuary
Because Nosey—like many elephants used in traveling circus-style shows—has a history of exposure to tuberculosis, she is not able to reside with other African elephants at the sanctuary, who have no history of exposure.
Nosey Meets New Friends
During the early days following Nosey's arrival at TES, she began rumbling to and socializing with her Asian elephant neighbors from a safe distance. But recently, Nosey met Tarra and then Sissy through a fence. This allowed the elephants to become comfortable with one another on their own terms, with the added security that a barrier provides. After slowly getting to know one another, the three elephants even met all together—with careful supervision by TES staff—inside a barn.
Elephant introductions at reputable, accredited sanctuaries like TES are careful and slow. This affords each elephant the freedom to learn how to be around others and the option to leave the area.
When finally introduced, Nosey and Tarra were both very relaxed, and spent several minutes smelling one another's trunk, face, mouth, ears, eyes, and feet. Tarra showed particular interest in Nosey's tusks and mouth, while Nosey was taking in everything she could about Tarra! They rumbled to each other softly. The two were allowed supervised access to each other for three hours and were seen on four occasions meeting up for minutes at a time expressing the same relaxed, exploratory behaviors.
We can't wait to see Nosey's relationship with Tarra and Sissy bloom!
Take Action for Elephants
While Nosey is now making friends at a reputable sanctuary, where she gets the treatment, enrichment, and respect that she deserves, other elephants exploited for entertainment are still suffering. PETA makes it easy to take action for them, and it only takes a minute with your phone or computer. What are you waiting for?