Thanks to the exhaustive researchers at The Awl, we now know that the New Yorker magazine, whose editors have historically shied away from profanity, never used the word "a******" until a reporter wrote about observing PETA VP Dan Mathews as he placed an "I'm an A******. I Wear Fur" sticker on a mink-clad shopper at a swank department store.
Back in 1994, a New Yorker writer followed Dan to the fur department at Bergdorf Goodman, learning en route that animals killed for fur are electrocuted, bludgeoned, and skinned alive. A salesperson promptly called security when Dan mentioned to her that chinchillas are killed by genital electrocution. Unabashed, Dan slapped the aforementioned sticker on the back of an unsuspecting shopper's fur coat on his way out. Dan says he got requests from all over the country for the stickers for months after the article ran.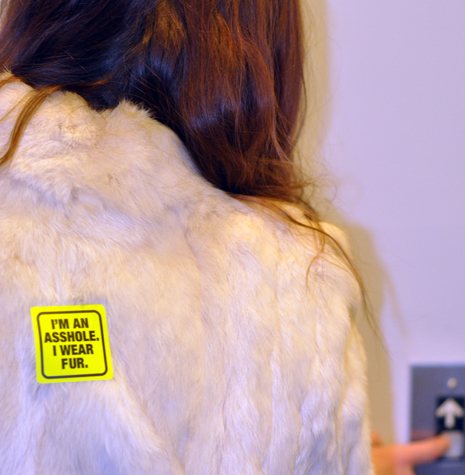 Who would have ever dreamed that Dan's playful prank would win animals a lasting legacy in the annals of New Yorker history? But wait—there's more! For a limited time (OK, it's not really all that limited), you can pick up some fun anti-fur stickers for yourself by visiting PETACatalog.com. You're #&*@% welcome.

Written by Michelle Sherrow