The cover of this week's New Yorker puts New York City's horse-drawn carriage debate in perspective by allowing the horses to kick back and relax and by giving the driver a taste of his own medicine: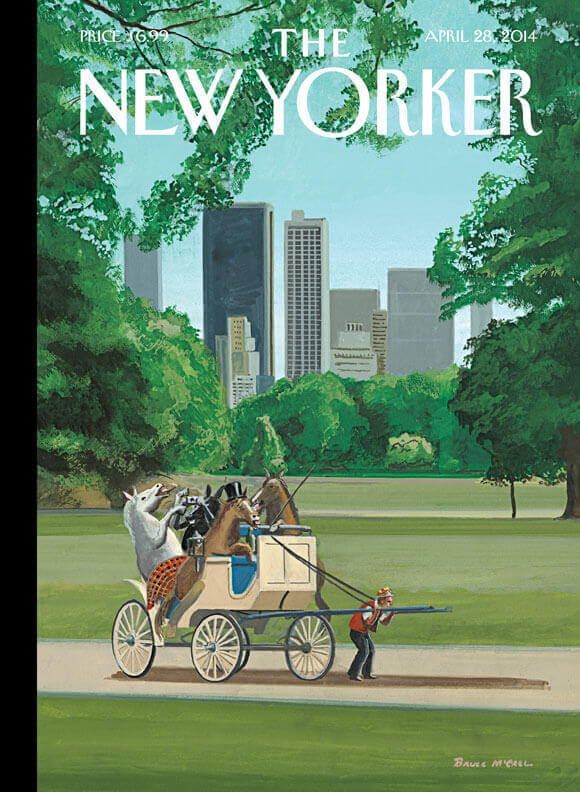 The artist, Bruce McCall, said, "I'm on the side of the defenseless animals, but the other point about horses for me is that they clog traffic. … A nineteenth-century traffic jam in this day and age seems silly."
Compassionate New Yorkers agree. A Crain's New York Business poll asked approximately 41,000 people, "Who do you think is right about the horse-drawn carriage industry?" and more than 31,500 (as of this writing) voted, "The mayor. It's cruel to have horses traveling in traffic across the city. The streets of New York are no place for horses."
This is what kind New Yorkers have been waiting for: a mayor who recognizes that forcing horses to haul heavy loads through busy city streets is cruel and must end. Mayor Bill de Blasio began his term in office with a promise to make the inhumane carriages history. And despite the protests of the carriage drivers and a lone Hollywood voice, these archaic carriage rides through Midtown traffic will soon be relegated to the history books, where they belong. eCarriages are the future.
What You Can Do
Please thank Mayor de Blasio for standing up for horses by standing up to the bullies who still want to exploit them.