Are you a New Yorker looking to use your license plate to show your support for animal rights? If so, you're in luck. A PETA custom license plate is now available from the New York State Department of Motor Vehicles (DMV) featuring a "Respect All Animals" sign, a paw print, and a "Reject Speciesism" appeal.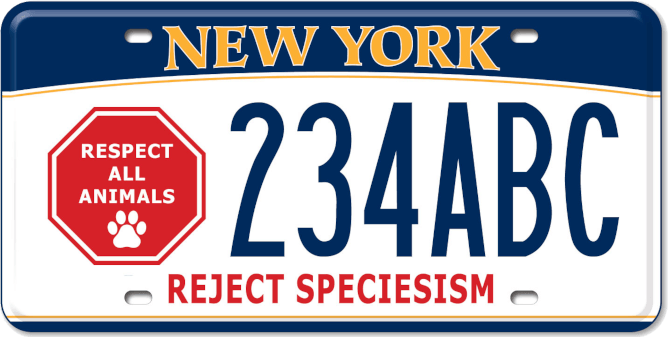 Speciesism is the misguided belief that one species is more important than another, and it's at the heart of how some humans justify using and harming animals. This is the first opportunity to call out speciesism with a license plate, and we couldn't be more excited to spread the word!
Order Your 'Reject Speciesism' License Plate
The plate is available for $60 from any New York DMV office or through the DMV Custom Plates Unit online, by mail, or by phone. Learn about ordering options here. Encourage your friends and family who live in New York state to order the plate, too!

Deck Out Your Ride, PETA Style
If you don't live in New York but still want to decorate your car with pro-animal messages, check out the bumper stickers in the PETA Shop. And if you're looking for a portable animal rescue kit or a sunshade to keep in your car, we've got you covered.