Update (November 17, 2023): Ryder's driver, Ian McKeever (Ryder's owner's brother), has been charged in New York City Criminal Court with overdriving, torturing, and injuring animals. Prosecutors say in their complaint that McKeever's actions "unjustifiably injured, maimed, mutilated, and killed an animal" and deprived him of necessary sustenance.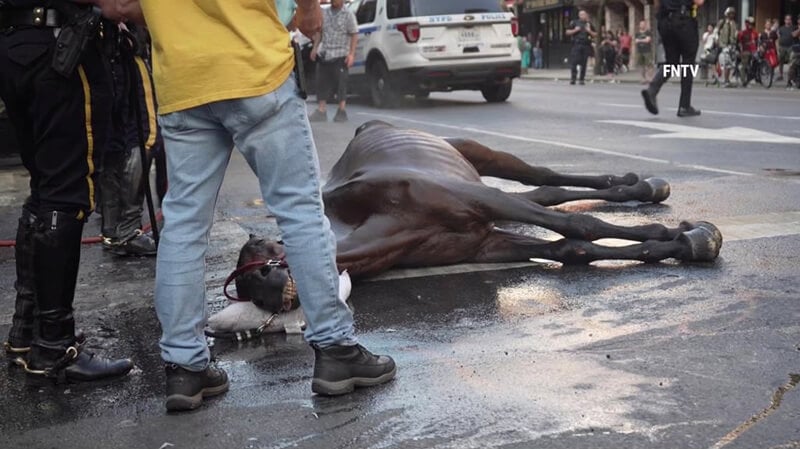 This abuse allegedly occurred in front of other carriage drivers and owners, and none intervened. A ban on horse-drawn carriages is the only way to protect other horses from suffering and abuse.
"All animals deserve to be treated with the utmost care, and the type of abuse that Ryder allegedly suffered is unacceptable."

—Manhattan District Attorney Alvin Bragg
No matter where in the world you are, you can help horses like Ryder:
---
Originally published on October 17, 2022:
On August 10, Ryder, a horse used for carriage rides, collapsed in the middle of a busy New York City street, likely due to illness and heat exhaustion. He lay on Ninth Avenue for over an hour—with no veterinary care—while his driver reportedly slapped him, whipped him, and screamed at him to get up. PETA exposed this horror on social media within minutes.
About two months later, on October 17, Ryder was finally relieved of his agony. Veterinarians at Cornell University's Equine Hospital euthanized him after they discovered that he was suffering from several untreated major medical problems.
His horrid owner, Colm McKeever, is currently being investigated for animal abuse. Colm falsified the horse's health records, changing his reported age from 26 to 13, and he faces a New York State Department of Health hearing.
This elderly horse, who was twice as old as his abusive handler would admit in legal paperwork, deserved to spend his days in a pasture, not on pavement. PETA is calling on the New York City Council to pass Int 0573 and get suffering horses replaced with modern electric carriages before history repeats itself.

—Ashley Byrne, PETA Director of Outreach
Making horses pull loads like carriages is cruel. Horses are forced to toil in extreme weather conditions, dodge traffic, and pound the pavement all day long. They may develop respiratory ailments from breathing the exhaust fumes of motor vehicles, and they can develop debilitating leg problems due to walking on hard surfaces.
This appalling incident garnered attention from people all around the world, including celebrities who are using their platform to speak out against horse-drawn cruelty.
Help Horses: Take Action Now
Never take carriage rides pulled by horses, and explain to your family and friends why they shouldn't, either. If your city allows horse-drawn carriages on its streets, urge your legislators to propose legislation that will ban them.