Update: In 2015, following pressure from PETA and other animal advocates, the U.S. Fish and Wildlife Service announced that all captive chimpanzees would now be reclassified as "endangered," effectively ending invasive experiments on our closest living genetic relatives. In addition, the National Institutes of Health (NIH) promised to retire all federally owned chimpanzees to sanctuaries. Sadly, since this announcement, few have been retired and many have died while waiting. Please urge NIH to retire these animals now!
Originally published April 23, 2012:
In advance of the April 24 U.S. Senate hearing on the historic Great Ape Protection and Cost Savings Act (GAPCSA), PETA sent members of Congress a print of a painting along with a photo of and a letter about the artist—a chimpanzee named Jamie, who was rescued from a laboratory.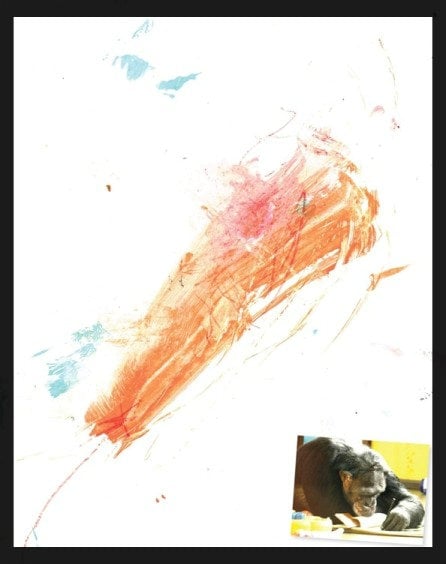 Photo: Chimpanzee Sanctuary Northwest
From Experiments to Expressionism
Jamie, now 34 years old, spent more than 20 years alone in a cage in the windowless basement of a Pennsylvania laboratory, where she was used in hepatitis experiments. In 2008, she—along with six other chimpanzees from the same laboratory—was rescued with PETA's help by Chimpanzee Sanctuary Northwest. Jamie now spends her days relaxing, playing outdoors with her friends, and expressing herself through art, including pen drawings and finger paintings. You can watch her creativity in action here.
GAPCSA would ban invasive experiments on chimpanzees, retire more than 600 federally owned chimpanzees to sanctuaries, and save taxpayers millions of dollars a year. PETA hopes Jamie's artwork and photo will help legislators put a face to this lifesaving bill at a critical moment.