Three gals based in PETA's D.C. office—Martina, Kristin, and Robbyn (left to right, below)—caught up with the dynamic Russell Simmons at his book signing in Largo, Maryland, on Wednesday. They presented the entrepreneur and philanthropist with a gift package that included a PETA baseball cap and a fruit basket.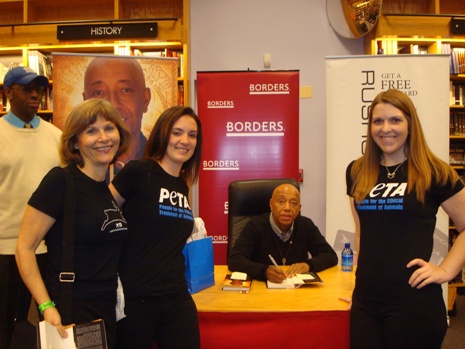 Robbyn recounts:
It was such a treat to meet Mr. Simmons last night. He and his staff were warm and gracious and lit up with smiles when we approached in our PETA shirts. Even though he'd never met any of us, Russell welcomed us to his table by calling us 'friends,' and his staff insisted that we take a photo with him.

We told Russell that we were there to support him because PETA loves him and we appreciate what a wonderful role model he is. Russell thanked us for the fruit and the PETA baseball cap that we gave him. He and his entire staff treated us in such a friendly fashion that we asked them to please let us know when they'd be in town next and to stop by our office here for a visit. They said that they'd love to come see their PETA friends in D.C.

He sent us away with blessings and said, 'Thank you for all that you do.' It was wonderful to see that Russell Simmons is just as warm in real life as he appears on television. We were all grateful to have spent the time with him and agree that what we've read of his book so far is inspirational. Many people stopped to speak to us about Russell's involvement with PETA and wanted to know exactly what PETA believes and does.
By the way, Russell's latest book, Super Rich: A Guide to Having It All, explains how we can prosper beyond our wildest dreams by dedicating ourselves to service and by adopting a compassionate vegan lifestyle. Clearly, Russell's walking the walk!
Written by Jeff Mackey