We recently told you about 240 cats who were seized from Sacred Vision Animal Sanctuary (SVAS) in Myrtle Beach, South Carolina, as a result of our undercover investigation at the hoarding facility. Many of the cats were too ill to survive, and many more are receiving veterinary care at the county's temporary shelter. PETA was able to bring three of the surviving cats to our Norfolk, Virginia, office, and after much TLC, they are on the mend.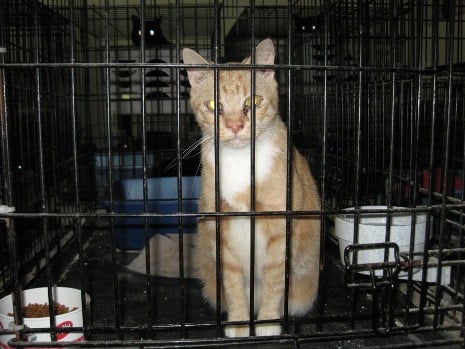 Nudge, before, at SVAS.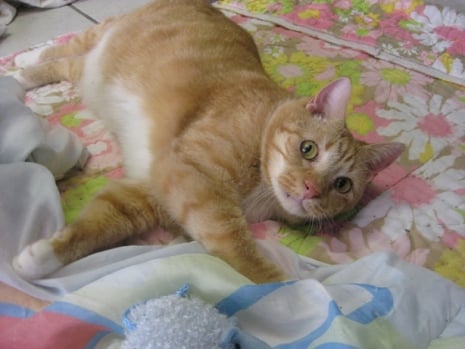 Nudge, now, at PETA.
Nudge's name comes from her love of being petted, which she makes known by nudging the nearest available hand. She spent most or all of her approximately 10 years in a cage and is now experiencing her second kittenhood, playing with toys and exploring. Nudge is finally discovering her hobbies, including cuddling up on laps to take naps or watch TV and giving foot massages by kneading the blankets covering wiggling toes.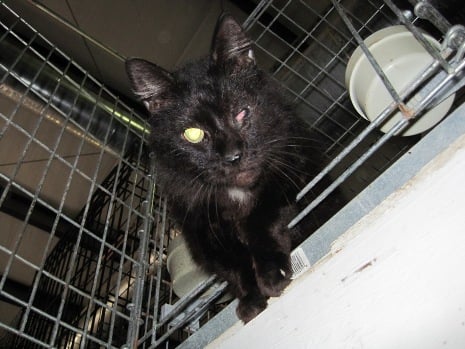 Olaf, before, at SVAS.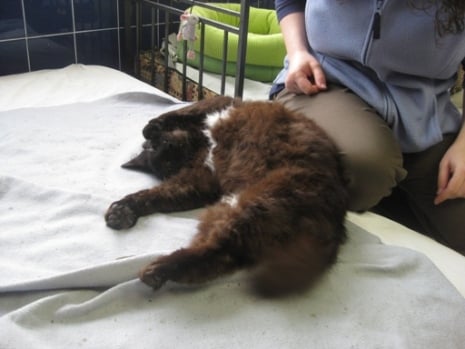 Olaf, now, at PETA.
Olaf is a charming Southern senior gentleman who has overcome much adversity. He was confined to a cage for many years and now can't get enough attention, which he returns with nuzzles. At the time of his rescue, he was covered in scabs from an untreated flea allergy. His tail appears to have been broken in two places, and part of it is missing, along with his left eye. Olaf is now on the mend and is calm and curious. He loves fellow rescue Okay and snuggles with her often.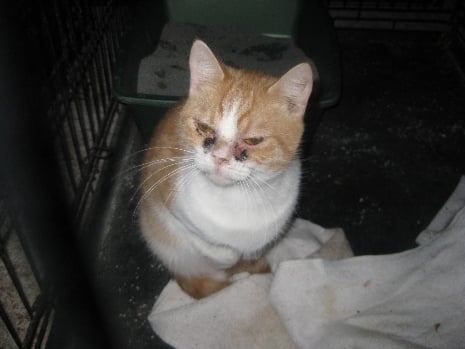 Okay, before, at SVAS.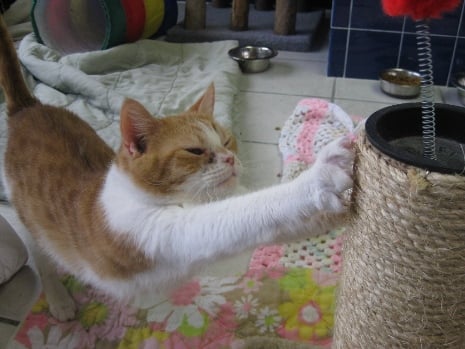 Okay, now, at PETA.
After a lot of care, Okay looks like she'll be better than OK once she finds her forever family. The 3- to 4-year-old tabby is recovering from severe conjunctivitis and an upper respiratory infection. Her view was limited to the walls outside her cage in a stifling warehouse, and she now cherishes windows and scenery. She purrs almost constantly while she's getting attention and soaks up all the love she can. She's also discovering what it's like to run and play, and she is getting good at hiding in blankets and chasing toys.
All three cats are sweet and affectionate, despite their ordeal. If you live near the Hampton Roads, Virginia, area and would like to be considered as a forever family for Nudge, Olaf, or Okay, please e-mail us for an adoption application—please put in the subject line, "Interested in Adopting SVAS Cats."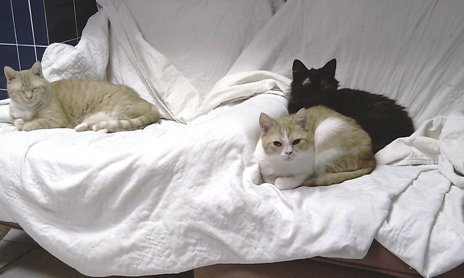 Written by Michelle Sherrow