Update: After receiving evidence from PETA's six-month undercover investigation at Sacred Vision Animal Sanctuary, Judge Bradley Mayers ordered the removal of all animals from the facility. More information regarding these new developments will be made available in the coming days.
Some 300 cats are suffering in filthy wire cages stacked inside dark, unventilated, ammonia-filled storage units at the grotesquely misnamed Sacred Vision Animal Sanctuary (SVAS) in Myrtle Beach, South Carolina. PETA has submitted a formal complaint to the local prosecutor and is calling for the cats to be seized immediately.
PETA' s undercover investigator recorded systematic, severe, and often fatal neglect of cats at SVAS, where some cats have lived in these miserable conditions for years. Our findings include evidence that SVAS owner and operator Elizabeth Owen knowingly deprives severely sick, injured, and suffering cats of veterinary attention for conditions including advanced upper respiratory infections, conjunctivitis, seizures, diabetes, gaping and infected wounds, torn ligaments, internal and external parasites, and painful dental conditions—and the list goes on and on. She even refused offers of free emergency care for dying cats. Owen was charged with violating the local animal care and treatment ordinance in September, but the case has been continued four times since, leaving the cats to suffer day in and day out.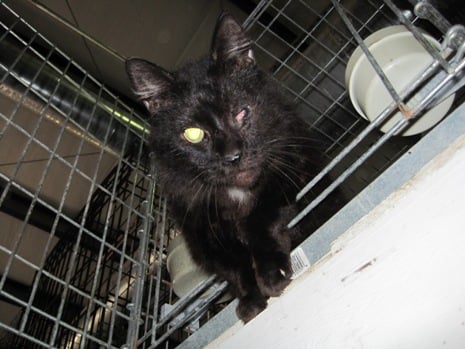 Olaf–who is missing most of one eye and has an unsutured, irritated wound–has never been taken to the veterinarian. He's one of the many sad cases at SVAS.
Please take a moment to e-mail Horry County prosecutor Greg Hembree and politely ask him to pursue the seizure of all cats from SVAS and to file cruelty-to-animals charges against Elizabeth Owen.
Written by Michelle Sherrow