Update: Maxine is home at last! Fully recovered and pouring on the charm by the bucketful, Maxine now lives in a lovely home in Washington, D.C., with a Chihuahua named Sam and a human named Molly. Molly works from home, so she can spend lots of quality time with Maxine and Sam, and she lives across the street from a beautiful dog park, where the canine duo loves to meet up with the local gang for doggie play dates.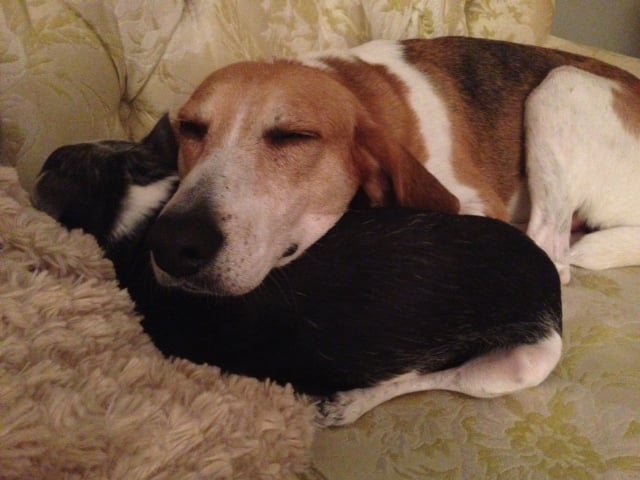 While Maxine is "off the market," Macey, a 2-year old pup we rescued from a backyard where she was kept chained, is still looking for a family to call her own. E-mail [email protected] to inquire about Macey or any of the other animals we may have up for adoption.
Originally posted on March 13, 2014:
Meet one of the many reasons why PETA hates hunting: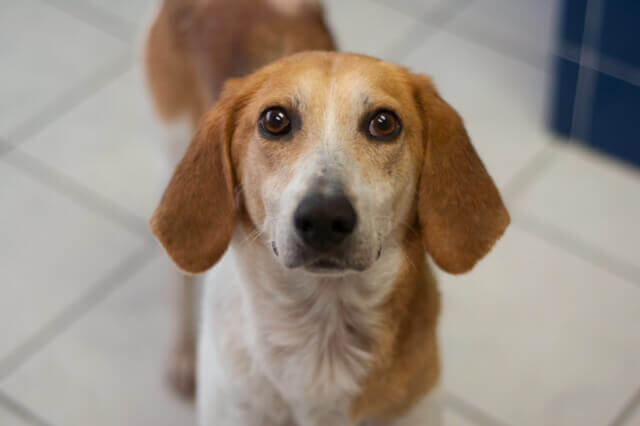 Every year, hundreds—if not thousands—of beagles, Walker hounds, and other dogs are lost while hunting or are even intentionally abandoned if they're sick, injured, elderly, or otherwise unwanted by hunters. Maxine is one of those dogs. She was found wandering forlornly down a rural road in North Carolina by a Good Samaritan who plucked her out of traffic.
Maxine's rescuer turned to PETA after trying to track down Maxine's owner without success. We immediately took the dog to a veterinarian's office, where she was diagnosed with a severe infestation of whipworms and not one but two tick-borne diseases: Lyme disease and Ehrlichia. Fortunately, all are curable, and she's currently undergoing treatment.
Maxine is looking for a home.
Maxine is a quiet, gentle soul (qualities scorned by hunters but highly valued by just about everyone else). She's still a bit subdued, perhaps because she isn't feeling in tip-top shape yet, but it's doing her foster mom's heart good to see her personality blossom every day. Maxine is a huge fan of peanut butter and keeps herself entertained by chewing on her Nylabone. Her foster mom reports that she likes to lean against people to show affection and gets along well with cats and other dogs.
Maxine's hunting days aren't over quite yet—she's still hunting for a home. If you're beguiled by a pair of big brown eyes, you may be just the person she's looking for. Drop us a line at [email protected] if you live on the East Coast (Maxine is currently in Williamsburg, Virginia) and would like to know more about adopting her. And please share this blog post with anyone you think might be interested in having his or her heart captured by Maxine.