Photo: Elephant Sanctuary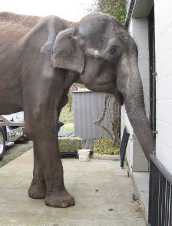 Update: We just found out that a U.S. Department of Agriculture (USDA) administrative law judge has upheld the agency's decision to reject abusive animal trainer Lance Ramos' request for a new exhibitor's license. The administrative law judge ruled that the USDA had good cause to revoke Ramos' license and that the revocation is permanent. Administrative charges filed by the USDA against Ramos in September 2013 for numerous serious violations of the federal Animal Welfare Act are still pending.
Originally posted October 31, 2013:
The wheels of justice turn slowly, but the U.S. Department of Agriculture (USDA) has finally charged disgraced circus supplier Lance Ramos with violating the Animal Welfare Act five years after it confiscated a starving elephant named Ned from him.
The charges against Ramos include failing to provide Ned, who was "visibly-emaciated and in compromised health," with adequate veterinary care, even after being advised that Ned was underweight and needed veterinary monitoring. According to the complaint, Ramos let Ned waste away for at least nine months while failing to have diagnostic tests conducted to determine the cause of his condition.
Ned was ultimately confiscated in 2008 and taken to The Elephant Sanctuary in Tennessee after PETA filed a complaint with the USDA and provided photos of the severely emaciated elephant. Carol Buckley, the founder and director of The Elephant Sanctuary, rated his health a two on a scale of one to 10 and described him as a "bag of bones." Sadly, Ned was so debilitated that despite a nutritious diet of fresh vegetables and expert care at the hands of Elephant Sanctuary staff, he died six months later. The USDA permanently revoked Ramos' exhibitor's license in 2009.
In addition to the charges related to Ned, the USDA also charged Ramos with denying adequate veterinary care to a lame lion and tiger, failing to provide two capuchin monkeys with appropriate environmental enrichment, and illegally operating as a dealer after the revocation of his license, among other violations.
Ramos is also the subject of another USDA investigation following a PETA complaint regarding his illegal exhibition of tigers with the notorious Hawthorn Corporation last year at a Shrine circus performance without a license. In addition, following a PETA complaint based on a whistleblower tip that Ramos was unlawfully housing tigers at his Florida property, he was arrested earlier this year and faces criminal charges.
What You Can Do
Urge the USDA to show the Hawthorn Corporation that it's not above the law by permanently revoking its license.