Photo: Elephant Sanctuary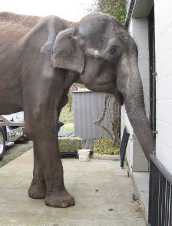 I have some good news, and I have some bad news.
First, the bad news: Ned, an elephant confiscated from a Florida-based circus trainer, almost starved to death—he weighs a ton less than he should. That's right, a ton. Carol Buckley, the founder and director of the Elephant Sanctuary in Tennessee, has rated his health a 2 on a scale of 1 to 10 and described him as a "bag of bones"—a sadly accurate description, as you can see in this photo. Ask yourself how long it must have taken for him to shrink away to that degree.
But there's good news—Ned has been confiscated from that trainer by the USDA and brought to the Elephant Sanctuary! He's being housed temporarily in a private facility, but will move to a permanent home once he regains his strength. Carol says he's starting to eat vegetables such as pumpkins, broccoli, and corn—a much more nutritious diet than the one he received in the so-called "care" of Ned's former trainer, which likely consisted of little more than hay. Hopes are high for Ned; Carol says he has the potential to live to be 70.
But, more bad news: The trainer who is responsible for Ned's condition is still licensed to work with animals! And this isn't the first time we've heard of him. We asked for an investigation into Lance Ramos in 2007 when whistleblowers contacted PETA about two tigers who allegedly died after being unnecessarily anesthetized for microchipping. (Ramos was training them for the hideous Ringling Bros. and Barnum & Bailey Circus, by the way.)
In fact, Kollmann's history of problems goes back at least to 2000, when he was initially denied a permit because of the violations he had committed under his father's USDA license. We believe that Kollmann's abuse of Ned should be the last straw for the USDA—it's time for Kollmann's license to be revoked permanently.
In our letter to the USDA—which can be read here—we ask that Kollmann's license be permanently revoked and that criminal charges be brought against him. Ned's face says it all—Kollmann should not be entrusted with the care of any animal.
Written by Amanda Schinke