In June, a golden retriever named Lunes died in a kennel inside the controversial and cruel muscular dystrophy (MD) dog lab at Texas A&M University (TAMU). Records obtained by PETA give no indication that Lunes' deteriorating condition was investigated or treated—even though he frequently didn't or couldn't eat. Greatly concerned about the remaining dogs still held in the school's MD dog lab, PETA has filed a complaint with the U.S. Department of Agriculture alleging that TAMU violated the federal Animal Welfare Act (AWA) and calling for an immediate investigation.
By apparently allowing Lunes to die without veterinary care, TAMU caused him pain and distress beyond what could be considered "necessary" for the purposes of any experiment. It is not clear from the records obtained by PETA if the attending veterinarian or veterinary staff were even told about his condition before it was too late—and the laboratory is housed in the veterinary school! Any failure to communicate Lunes' ailments adequately would not meet "professionally acceptable standards governing the care, treatment, and use of animals"—further violating the AWA.
How Lunes Lived—and Died—Inside TAMU's Twisted Laboratory
While he was still alive, Lunes' sperm was taken from him and used to artificially inseminate female dogs held in TAMU's "colony." From July 2016 to May 2018, these forced inseminations resulted in five litters comprising 38 puppies. Twelve had canine MD, and 10 were carriers for the disease but didn't exhibit symptoms. An additional eight puppies were either stillborn, found dead by staffers, or euthanized shortly after birth after showing signs of labored breathing­—an indication of the extent to which dogs born with this disease suffer.
There are more than 130 notations specifying that in 2018 alone, Lunes did not finish his food (sometimes even leaving all of it uneaten). There are no notes indicating how much Lunes weighed, but it's likely that he lost a significant amount of weight as a result of his poor appetite. Yet, appallingly, there is no indication that anything was done medically for him. Instead, his apparently deteriorating condition seems to have gone untreated, and he was left to die alone in a barren, concrete-and-metal kennel—very possibly experiencing significant pain and distress.
What You Can Do
Nearly 40 years of MD experiments on dogs hasn't led to a cure or even a treatment to reverse disease symptoms in humans. So it's no wonder that scientists, 500 medical doctors, and people with muscular dystrophy have criticized TAMU's MD experiments on dogs.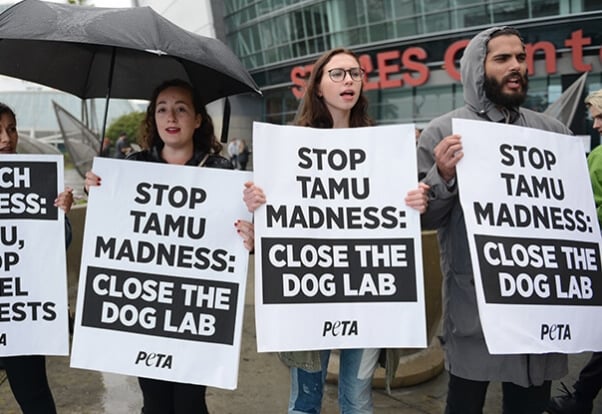 Thousands of caring individuals have already joined PETA in calling for an end to TAMU's cruel and useless experiments on dogs. As a result of our efforts, it has ceased breeding additional dogs to suffer in its lab. Now, let's get the school to shut it down for good: