Friend to PETA and to animals—and the most vocal and powerful supporter of sound science and the National Institutes of Health (NIH)—Congresswoman Lucille Roybal-Allard, is confronting the agency about its failure to keep and make public a basic inventory of the number of animals it uses in research and to reduce this number over time. In an unprecedented move, Roybal-Allard requested that NIH provide her with a plan for a reduction in the number of animals used in NIH experiments and to count the exact number and species of all animals used by the agency and report it to the public—something the agency has never before been required to do.
PETA, along with the New England Anti-Vivisection Society (NEAVS), have long supported such a requirement and are grateful to Rep. Roybal-Allard for once again leading the way to help animals in laboratories and advocate for good science.
In her letter to NIH Director Francis Collins, Rep. Roybal-Allard writes the following:
The NIH has publicly stated that reducing the number of animals used in biomedical research is an important agency priority. However, currently the NIH is unable to quantify and make public the exact number of animals, including those not covered by the Animal Welfare Act, that are used annually in NIH intramural biomedical research. This lack of an inventory system constitutes a barrier … toward its own stated goal of reducing the number of animals used in biomedical research.
Rep. Lucille Roybal-Allard (D-Calif.-40) is the Vice-Chair of the Labor-HHS-Education Appropriations Subcommittee, which gives her budget authority over NIH. She is a leading voice for animals and for science that actually helps humans. Last year, Roybal-Allard's efforts were critical to PETA's ending the U.S. Coast Guard's use of live animals in trauma training drills in which goats were stabbed, shot, and mutilated. She was also instrumental in PETA's shut-down of the cruel baby monkey laboratory operated by NIH's Stephen Suomi, in which monkeys were intentionally frightened and tormented by human experimenters, addicted to alcohol, and forced to live alone in tiny cages in order to worsen their psychological distress.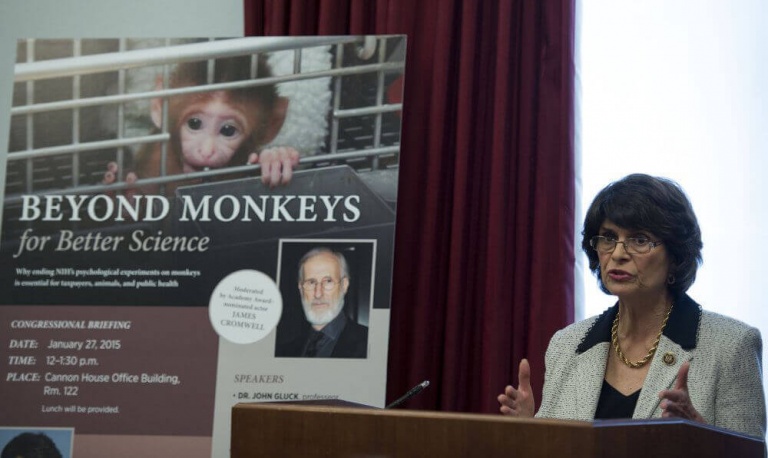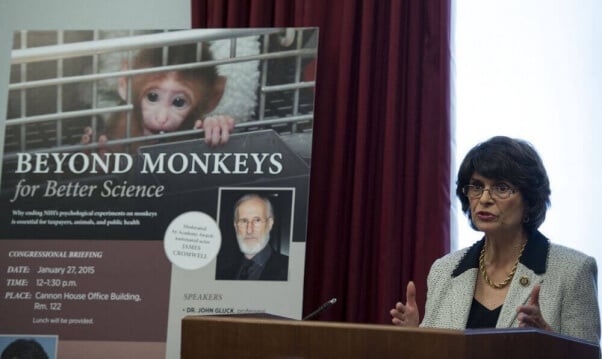 Leigh Vogel | PETA
Specifically, Roybal-Allard requests the following information from NIH:
1. The total number of animals used in research for fiscal year 2018
by each individual intramural NIH facility
identified and grouped by animal species
2. The number of animals that were euthanized in fiscal year 2018
3. A detailed methodology for obtaining such a count of animals
4. The percentage of funds expended by each national research institute on biomedical and behavioral research that involved the use of animals in comparison to funds spent on such research that did not involve the use of animals
5. A plan outlining how NIH will achieve a reduction in animal use numbers in NIH-funded research that includes an estimate of percent reduction over the next five fiscal years
PETA and the New England Anti-Vivisection Society (NEAVS) are pleased to be supporting Rep. Roybal-Allard's efforts—please join us!
What You Can Do