"It's tangled … it's tangled. It's going to drown," one man can be heard saying. "It doesn't matter, we'll get another one," responds the other. This exchange—an actual conversation between two men caught on camera during the violent capture of wild orcas—appears within the first 70 seconds of Long Gone Wild, a documentary released today that details the plight of captive orcas. The riveting, tear-jerking scenes only get more upsetting from there.
What Is Long Gone Wild About?
Long Gone Wild explores early orca capture and confinement—from the first capture and display of an orca, Namu, to the creation of the "legend" of Shamu—and covers the evolution and subsequent failures of SeaWorld.
#LongGoneWild producers #WilliamNeal and #RachelWeil on #KTLA today. Thanks for the great mention of #VisionFilms! We're so proud to be part of this amazing journey to #savethewhales!https://t.co/XyUgLHew9T pic.twitter.com/f0pso0otUo

— Vision Films (@VisionFilmsInc) July 12, 2019
The film picks up where 2013's critically acclaimed Blackfish left off. Known as the Tilikum biography that exposed SeaWorld and other marine parks around the world for what they truly are (profit-hungry death traps that confine animals to cramped concrete tanks), Blackfish certainly shares similarities with Long Gone Wild. But the new documentary's story and characters are all fresh—and so is the heartache.
Long Gone Wild sheds light on other marine parks, too. Kshamenk at Mundo Marino in Argentina, Lolita at the Miami Seaquarium, and Kiska at MarineLand in Ontario (aka "The World's Loneliest Orcas") are also discussed. Deprived of mental stimulation, these three can often be seen floating listlessly for minutes at a time on the surface of the water in shallow, minuscule holding tanks—as if they've given up all hope. And who could blame them?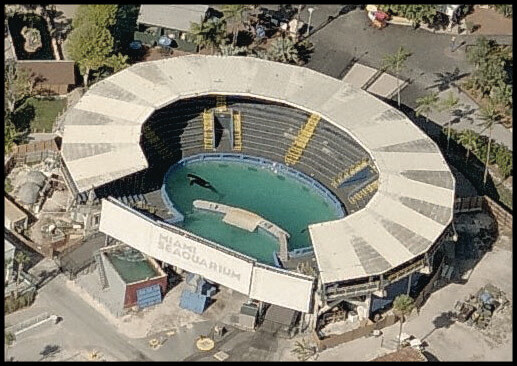 Long Gone Wild also touches on wild-orca capture operations in Russia, which recently came under fire.
For nearly a year, 96 captured belugas and orcas have been held in small sea pens. Now authorities say that over the next four months, they will all be returned to the point of capture—1,100 miles away—and released https://t.co/OOLkSEYbCq

— National Geographic (@NatGeo) June 21, 2019
The Whale Sanctuary Project and its PETA-backed seaside sanctuary concept—which played a role in speaking out against the recent fiasco in Russia—are given a nod in Long Gone Wild.
What Is SeaWorld Trying to Hide?
"SeaWorld was strictly created as entertainment. We didn't try to wear this false facade of educational significance."

—George Millay, one of the founders of SeaWorld.
But sometime between SeaWorld's 1964 founding and now, the marine park did begin to hide behind a smokescreen—disguising contributions to its own bottom line as funds toward bogus educational efforts and sham ocean conservation efforts.
If you still feel positively about SeaWorld or other marine-mammal parks, you likely won't by the end of Long Gone Wild. The new documentary takes SeaWorld's former "mom and apple pie" reputation (as Dr. Naomi Rose puts it in the film) and tears it to shreds.
Will Long Gone Wild Offer These Animals Hope?
In 2013, Blackfish helped to rally a worldwide movement to send captive orcas and other animals to seaside sanctuaries, a movement that PETA helped to kick off. Long Gone Wild is essentially a "Blackfish effect" booster shot, one that will undoubtedly inspire a whole new crop of activists to speak up in behalf of these imprisoned individuals.
How to Watch Long Gone Wild
Long Gone Wild is available on multiple video-on-demand services including Apple TV, Google Play, Amazon, Vimeo, VUDU, and Fandango NOW. Cable providers—including DIRECTV, xfinity, Cox, Spectrum, Verizon, Sling, Google Fiber, Frontier, CenturyLink, Mediacom, Suddenlink, dish, and Rogers—will also be screening the film. Check Amazon, Walmart, Barnes & Noble, or Best Buy to purchase it on DVD.
What to Do AFTER You've Watched Long Gone Wild
If you're like us, you'll want to do something worthwhile after watching. Luckily, doing our part is easy. For starters, never buy a ticket to a marine park or performance that uses live animals. You can also urge companies like AAA to end their affiliation with SeaWorld. Finally, click below to urge the abusement park to send orcas to sea sanctuaries and end its use of animals:
If you think it's wrong to take orcas, dolphins, and other marine animals from the ocean, confine them to tiny tanks, and make money off of their misery, then this "SeaWorld Sucks" T-shirt is for you.