Just in time for the start of the cruel Maine Lobster Festival, PETA has revealed that it snuck a pro-lobster message into New England's iconic baseball stadium. Visitors to Fenway Park—home of the Boston Red Sox—can find the phrase hidden in one of the commemorative bricks there by combining the first letters of the words and reading what is spelled out: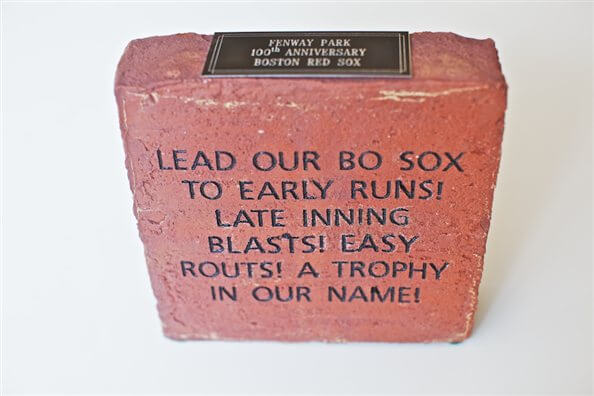 That's right! It says, "Lobster Liberation," as a subtle reminder to shellfish-eaters to let the naturally long-lived crustaceans live those long lives major leagues under the sea, where they belong. Just as BoSox fans should be free to watch baseball games, lobsters should be allowed to pursue their own pleasures, free from the excruciating pain of being boiled alive.
No animal wants to end up on someone else's plate, so skip the lobster festival. Hit the Green Monster instead and eat green, not mean. You can choose from a number of delicious and humane vegetarian meals and snacks, such as the veggie dogs, veggie burgers, and vegetarian burritos that earned Fenway an honorable mention in this year's list of vegetarian-friendly MLB parks. And when someone you know is craving lobster? Don't mock them—tell them to eat mock seafood, instead!
Vegan faux lobster is delicious and all the sweeter for being both cholesterol– and cruelty-free. Want a special treat to pack the next time you're in the stands? Try this delicious recipe—you'll hit it out of the park:
Mock Lobster Salad
1 mock lobster from May Wah
1/3 cup Vegenaise
1 Tbsp. fresh lemon juice
2 Tbsp. chopped shallots
1/2 Tbsp. chopped tarragon
1/4 tsp. salt
1/4 tsp. black pepper
1 cup salad greens
1 avocado, pitted, peeled, and rubbed with lemon juice
Hot dog buns (optional)
 Cook the mock lobster in boiling water, then set aside to cool.
Combine the Vegenaise, lemon juice, shallots, tarragon, salt, and pepper.
Once the mock lobster is thoroughly cool, chop into bite-size pieces and gently toss with the Vegenaise mixture.
Cover and chill in the refrigerator until ready to serve.
Serve with the salad greens and avocado, either on a plate or on a toasted hot dog bun.
(By the way, if your idea of a great game runs more to PS3 than MLB, be sure to try your hand at liberating lobsters with PETA's free online game.)