While out for a run, teen bride Courtney Stodden proves there's no wrong way to show off your vegetarian pride.
NASCAR driver Andy Lally keeps his motor running with healthy vegan foods.
When Denise Richards tweeted to PETA asking for vegan cookbook recommendations, we not only told her about some but also sent 'em to her, and she tweeted her thanks.
Liam Hemsworth might be in puppy love—he got a rescued dog from girlfriend Miley Cyrus for his birthday. She asked her Twitter followers always to adopt, never buy, joining the roster of celebrity sweet tweeters: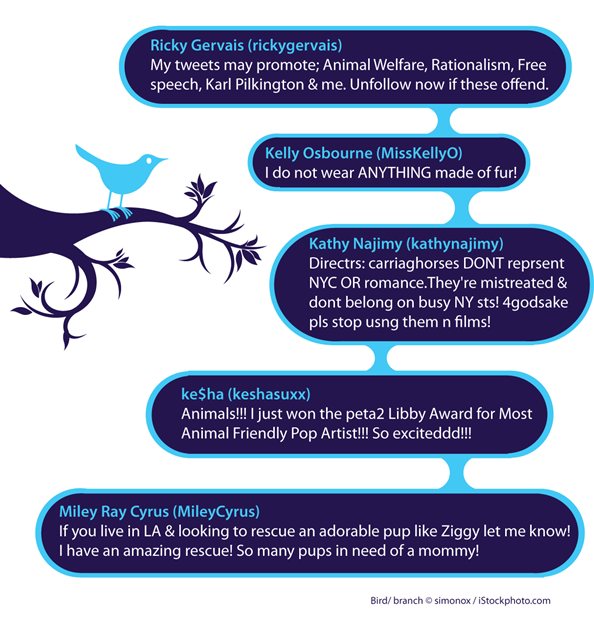 Maybe James Franco was inspired by Rise of the Planet of the Apes to join Kevin Nealon and a host of other celebrities in support of the Great Ape Protection and Cost Savings Act, which aims to get great apes out of laboratories.
One of the great apes' staunchest supporters, Dr. Jane Goodall, is featured on Beliefnet.com's picks for the Top 10 Animal Rights Activists. Click here to see the full list, which includes heavy hitters such as Bob Barker, Ric O'Barry, and Russell Simmons.
Another heavy hitter, PETA President Ingrid E. Newkirk is making headlines for not mincing words. Asked what she thought about Real Housewives of New York star Cindy Barshop's real-fur merkins, she responded, "It's outright sleazy, and it's downright cruel to kill an animal to decorate your privates." We'll leave you with that.