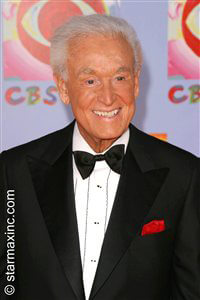 In a hard-hitting interview with Canada's CTV network, the ever-eloquent Bob Barker blasts the Edmonton Valley Zoo and city officials for refusing to transfer Lucy, the zoo's ailing and aging elephant, to a sanctuary. Lucy will spend most of the next six frigid Alberta months alone inside a barren barn with nothing to do but sway and dream of the life that she was meant to have.
Bob, pulling no punches, calls Lucy's living conditions "really just one of the worst cases that I know of" and says that he is "appalled at the misery that Lucy has suffered there in Edmonton at the Valley Zoo." Watch here to see Bob take Edmonton and zoo officials to task.
Both Bob and former NHL powerhouse Georges Laraque have offered to make a $100,000 donation to the city to get the transfer underway, and earlier this year, comedian Steve-O led a PETA protest outside the zoo. Canadian William Shatner appealed directly to the mayor to do the right thing for Lucy. But so far, officials have refused to budge.
We're pushing full speed ahead to get Lucy's case heard in Canada's Supreme Court, but in the meantime, please e-mail polite notes to Edmonton's mayor and city council and beg them to move Lucy before winter sets in.
Written by Jennifer O'Connor