Set your TiVo tomorrow night because you won't want to miss Oxygen's new series, Running Russell Simmons. The episode features fantastic animal rights activist Simone Reyes, who is the executive assistant to one of the coolest vegans on the planet, Russell Simmons.
Odds are, you know that hip-hop mogul Russell Simmons has spoken up for lonesome, chained dogs, abused KFC chickens, and victims of dogfighting, but you might not know about his right-hand woman, Simone Reyes. Let's change that: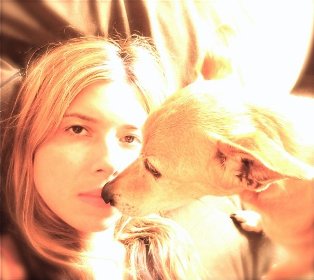 Simone has been a true-blue friend to PETA and all animals. She's a vegan fashionista who's always ready to help, whether by stripping for a PETA anti-fur action or donning "bloody" cellophane for a meat tray demo.
In her profile on the show's website, Simone says, "I only adopt special-needs animals, and they require a lot of my time and attention. … I always carve out time to give undivided attention to my 'kids.'" Simone is Russell's "go-to" gal, and she says she's always ready for action: "That means eating clean (vegan!), exercising, and doing A LOT of charity work so that I can wake up in the morning feeling good about what's reflected back to me in the mirror."
Want to know more about these two phenomenal advocates for animals? Read up, and then round up your friends to celebrate the show's PETA episode on November 9.
Written by Karin Bennett