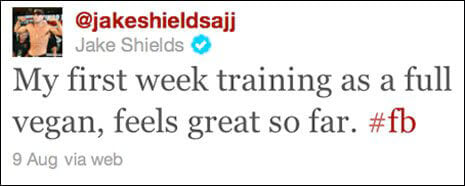 Fighters, schmighters―after Jake Shields' recent tweet, the people he'll really need to shield himself from are all the clamoring vegan girls. And they're probably in pretty good shape, too, if they've been fueling up on the healthy fare that Ellen DeGeneres shares on her website's "Go Vegan With Ellen" page. Hope they leave room for Anne Hathaway's luscious vegan treats.
Alicia Silverstone is raising a little vegan Bear, of course. Maybe she has some words of wisdom for cruelty-free mom-to-be Emily Deschanel?
And PETA has words of wisdom for Diane Kruger, about her photo shoot in which she was draped in coyote. Hasn't she heard it's better to go naked than wear fur? Furry Alexander McQueen may have passed on, like so many of the animals he killed for clothes, but at least he did make a kind decision in his will. Where was his compassion when he was alive?
Well, it's very obvious where Bree Olson's compassion is―you can't miss it. And Olivia Wilde and Emma Stone are going to have cruelty-free written all over their faces.

Written by Michelle Kretzer