Quite a few longtime PETA friends and faves were among the celebs who told the Associated Press about their animal-oriented New Year's resolutions, including Bob Barker ("To continue urging folks to have their pets spayed and neutered—including rabbits."), Lea Michele ("I wish that [my cat] Sheila would stop going into my bathroom, taking out all my cotton balls out of the jars and spreading them all over."), and Katherine Heigl (whose dogs want her "to feed them consistently on time in the morning"), not to mention superhot Josh Duhamel and music legend Roberta Flack, whom we love all the more after hearing about their rescued animal friends.
Other pro-adoption superstars? How about George Clooney, who recently talked to Esquire about adopting his shelter mutt, Einstein? Or Charlize Theron, who wants more people to, well, be like George?
If anyone you know needs convincing that tofu scramble is the real breakfast of champions, you can remind him or her that vegan WWE superstar Daniel Bryan has been awarded the world heavyweight title. Then break a chair across his or her back just to get the point across. (PETA's lawyers would like us to note that this is a joke and that violence is never the answer.)
Not to be outdone, the UFC took to Twitter to urge fans to vote for Jake Shields for peta2's Most Animal-Friendly Athlete Libby Award.
A number of other stars offered up pro-animal tweets as well: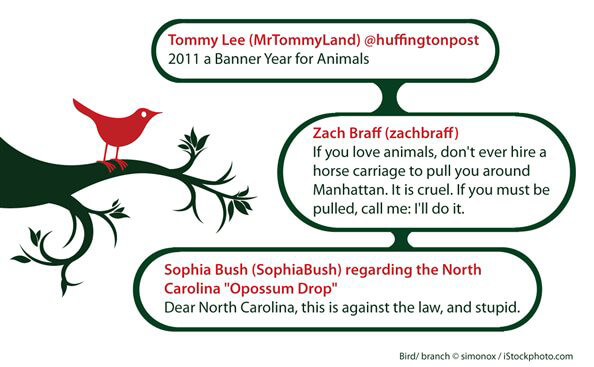 And the always amazing Oscar-winner and Raising Hope star Cloris Leachman raised some hope for animals abused in circuses by writing to the mayor of Orlando and asking him to protect the elephants scheduled to perform in the city with Ringling Bros.