If we get a say in who's the most eligible of the Most Eligible Dallas cast, we choose Tara Harper. Besides being a vegetarian, she started an animal rescue organization and has rescued dogs of her own.
Flip the dial to ABC Family to watch Jennie Garth as an adoptive mom on her new show, Village People. She won't need to do anything to get into her heart-of-gold character—the compassionate actor already stands up for animals abused by the circus or killed for their fur. "Animals deserve the same love and respect that babies do, humans do," she says.  
It's twins for Katherine Heigl and Josh Kelley! The couple just adopted two German shepherd–mix puppies from a southern California rescue group.
Jimmy Fallon went to bat for the fish who are suffocated and thrown into toilet bowls in a cruel game played by residents of Terra Ceia, Florida, called the "mullet toss." Fallon made fun of the event on his show, calling it "the first step in the redneck mating call."
Pamela Anderson is dead serious about getting horse-drawn carriages off New York City's streets. After a horse named Charlie collapsed and died, followed by the collapse of two more horses within two weeks, she posted to her Facebook page, "Horses do not belong in a congested, urban setting where they are constantly breathing exhaust and sharing the streets with cars, buses and taxis."
Many other celebrities voiced their disgust of horse-drawn carriages and other issues on Twitter: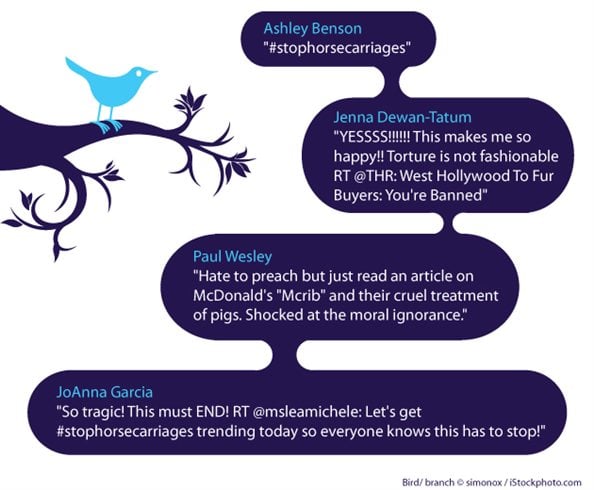 Written by Michelle Sherrow