© Star Max Inc.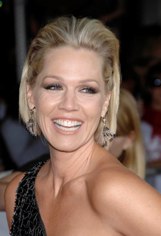 I got teary again and again watching Jennie Garth's character, Kelly Taylor, grow up on Beverly Hills, 90210—and I got goose bumps when she mamboed on Dancing With the Stars. But when I learned that Jennie asked MomCentral.com to drop its partnership with Ringling Bros. and Barnum & Bailey Circus, I cheered so loudly that I woke Frank and Tom from their fifth nap of the day. (Sorry, fellas.)
The mother of three was moved to take action after learning about Ringling's abuse of baby elephants, who are snatched away from their wailing, distraught mothers by trainers who slam the babies to the ground, poke and prod them with bullhooks, and give them electric shocks. Asking the site to sever its ties with Ringling, Jennie wrote, "Because Mom Central is a resource that promotes support for all mothers, I implore you to consider the helpless animals who are forced to surrender their children to a lifetime of isolation and pain."
You don't need to have children to be concerned about the dangerous lesson Ringling teaches its audiences—that it's OK to abuse babies who've been stolen from their mothers. I'll be following Jennie's lead and politely asking MomCentral.com to drop Ringling. Will you join me?
Written by Karin Bennett