A lively "lion" and a triumphant "tiger" led members of a coalition of local animal rights groups—including PETA, Long Island Orchestrating for Nature, and CompassionWorks International—in a protest outside Nassau Veterans Memorial Coliseum on Friday, when Ringling Bros. circus held its final opening-night show. Demonstrators celebrated the demise of the saddest show on Earth with signs reading, "Bye, Bye, Animal Abusers" and "Animal Entertainment Is a Dying Industry," and will continue to protest Ringling throughout its final week of shows.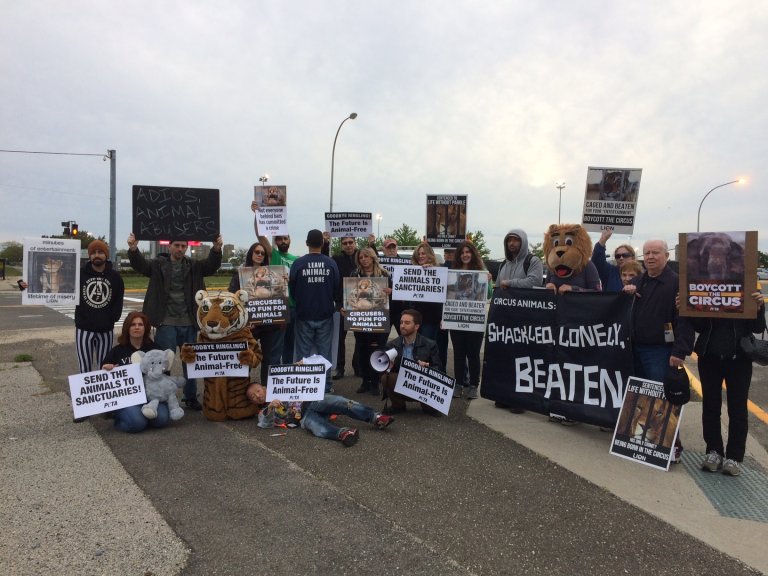 After 36 years of PETA protests, the curtain is finally dropping on what has been a nightmare for wonderful wild animals. We urge families to build on this momentum by never buying a ticket to any of the archaic circuses that still use animals.
BREAKING: After 36 years of protests, #RinglingBros Circus will shut down in May. Thank you to all who spoke out! https://t.co/sE9GNgC8gx pic.twitter.com/iVOUu7L4Pr

— PETA (@peta) January 15, 2017
PETA ran a relentless campaign that included video and photographic exposés, creative ads, celebrity campaigns, successful efforts to urge every major sponsor to drop Ringling, online activism, support for local legislation, and thousands of demonstrations to show the public that the circus beats animals and forces them to perform tricks out of fear of punishment. While the sustained anti-cruelty campaign has caused it to shutter, other circuses that feature animal acts are still touring the country. PETA has upped the ante on them and will not give up until there are no more animals in circuses.
What You Can Do
Thank you to everyone who has picked up a protest sign, passed out leaflets, written letters, shared videos, called legislators, spoken to family members, and been part of an unwavering pursuit of freedom for animals. Ringling's demise wouldn't have happened without you. But there's still work to be done.
Click the red button below to learn more about attending our final demonstration on Sunday, May 21, in Uniondale, New York. If you're unable to attend a demonstration, you can still speak up for animals. Click the blue button below to send a message urging Carson & Barnes Circus to end all cruel animal acts.