The federal license allowing the notorious Hugo Tommy Liebel to exhibit a neglected elephant named Nosey will expire on January 30. The U.S. Department of Agriculture (USDA) has cited Liebel with nearly 200 Animal Welfare Act (AWA) violations, yet it has renewed his license year after year. Liebel's decades-long abuse and neglect of Nosey must end, and PETA is urging the USDA to refuse to renew his license once and for all.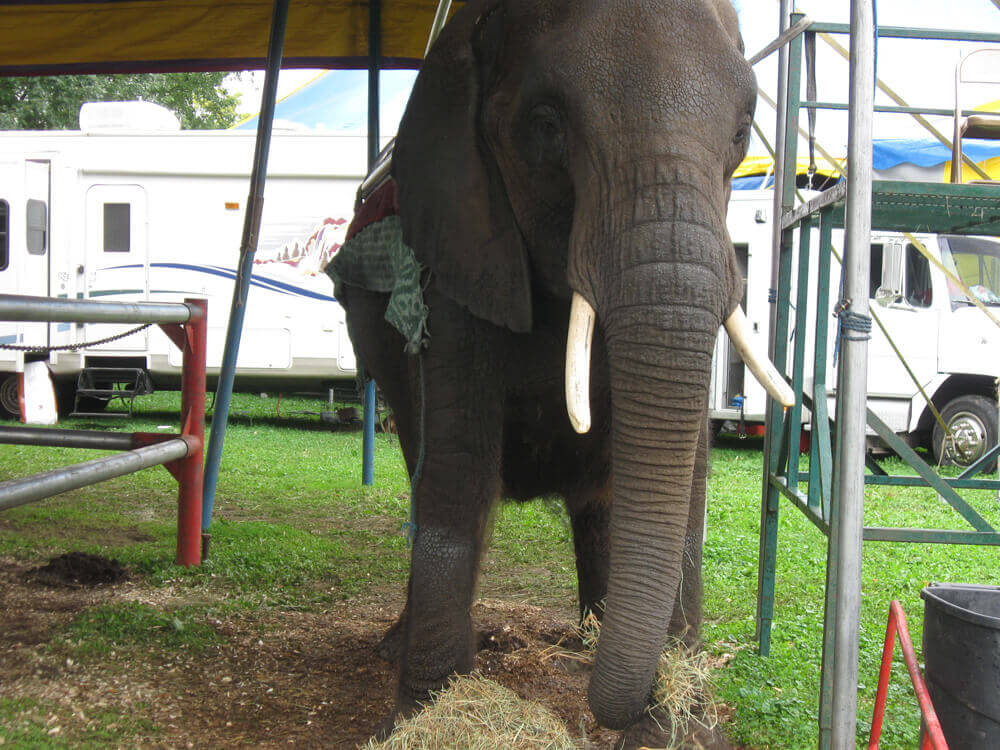 The USDA has cited Liebel again and again for mistreating Nosey by shackling her with short chains, denying her veterinary care, and failing to handle her safely. According to the affidavit of a former Liebel employee, Nosey was routinely shocked with electric prods during "training" and as punishment and was viciously beaten with a bullhook.
Just last year, Liebel was ordered to pay a $7,500 penalty and to cease and desist from violating the law following nearly three dozen charges of violations of the AWA. Liebel apparently hasn't changed his ways—last summer, he chained Nosey once again, failed to resolve her chronic veterinary issues, and repeatedly allowed dangerous public contact with her. Enough is enough. Liebel has not demonstrated compliance with the AWA, and the USDA must not rubber-stamp his license again.
Nothing 'Serene' About This Animal Hellhole
Serenity Springs Wildlife Center, a Colorado facility with an appalling record of animal deaths and animal welfare violations, has been using day-old tiger cubs and weeks-old lion cubs as photo props. Even though these babies need to be with their mothers, nursing and being nurtured, this roadside zoo rakes in profits by allowing members of the public, including excitable children, to hold and handle them. The cubs' immune systems aren't fully developed, leaving them vulnerable to illness.
Using cubs younger than 8 weeks old violates USDA policy and puts them at risk. Like Liebel, Serenity Springs operator Nick Sculac has an appalling record: Approximately one-third of the animals at his facility have died over the last five years, according to its own records, and it faces dozens of charges for AWA violations, including for repeatedly failing to provide animals with appropriate veterinary care. In one disturbing incident cited by the USDA, Sculac—who is not a veterinarian—diagnosed a tiger named Nala with cancer, and instead of having her treated by a veterinarian, he unsuccessfully attempted to euthanize her by injection and ultimately killed her by cutting her throat.
What You Can Do
Never buy a ticket to ride an elephant or pay to have your photo taken with a traumatized cub. As long as these outfits make money, animals will continue to suffer. Please ask the USDA to deny Hugo Liebel an exhibitor's license once and for all.